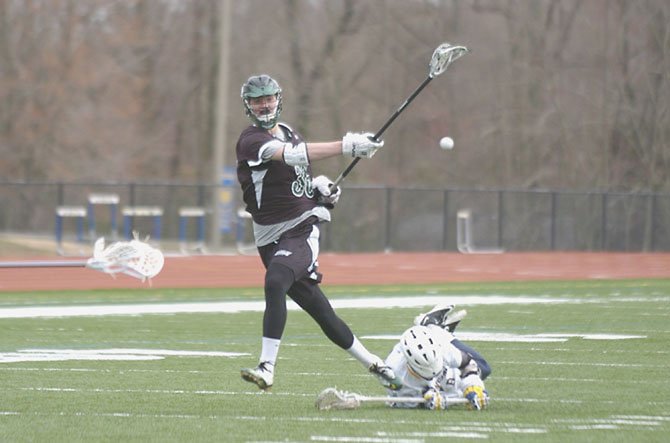 At 6 feet 6, Brad Dotson was a big, physical defensive presence for the Langley boys' lacrosse program.
Dotson was a four-year varsity athlete who was twice named firstteam all-region. He was part of three consecutive state championship teams from his freshman season through his junior campaign. The Saxons fell short of winning a state title during Dotson's season year, but the 2013 Langley High School graduate earned All-American honors.
Dotson was also a standout basketball player, earning second-team all-region honors as a senior. Dotson will continue his lacrosse career at Bucknell University. He recently took part in a Q and A with The Connection via email.
*Connection: What made Bucknell the right fit for you?
Dotson: Bucknell was perfect for me because it had all the traits I was looking for when I was deciding. It's a great school with a lacrosse team that's consistently ranked and competitive in the NCAA. I loved all the coaches and the guys already on the team are really cool to me. I like that it's a smaller school. My sister plays on the women's basketball team, so it's going to be fun being at school with her for a couple years (and easier on my parents). In addition to all that, it's got an awesome campus and I've only heard good things about it!
*Connection: What will you study?
Dotson: I wanted to switch into the engineering school when I get there in the fall, but if I don't get in, then I'll probably study physics.
*Connection: Any word on playing time as a freshman?
Dotson: I've heard that there's a spot open and I think if I work hard enough then I might be able to get some time. Supposedly I'm one of the contenders, but it's obviously not going to be easy as a freshman.
*What position will you play?
Dotson: They recruited me as a close defenseman and it's what I've played all my life, but I wouldn't be surprised if I ended up playing a little long stick midfielder.
*What is your favorite memory of playing lacrosse at Langley?
Dotson: Haha, that's a hard question to answer; I had a great time at Langley and we made it through a lot of big games. My favorite was probably the state championship my junior year. That team was probably the closest with each other out of my four years here.
Everyone had been playing together for a really long time (since youth league for most of us) and it was a big deal to see it end. We had 17 awesome seniors out of 36 players and it was cool to see all those guys go out with a big win like that. They deserved it. The whole team went out together after the game and it was a really fun night all around. That was definitely my favorite season.
*Connection: If you could go back and change one thing about your high school athletic career, what would it be?
Dotson: If I could change one thing for myself it would be that I didn't get mono sophomore year (even though my recruiting process ended up working out for the better). But mostly I would keep (rising senior attackman) JT Meyers' legs healthy. Aside from the fact that he's the last kid that deserves to be injured, he was such a key part of the offense this year. And the manor of his injuries were even worse: he tore his meniscus the first time with a fluke step in a passing drill --- putting him out for most of the regular season --- and then when he tore his ACL in the Chantilly game, everyone knew it was over. Nobody could play after that. In addition to his injuries taking a toll on the team's success, a HUGE factor for me was that I was pushing for him to come play at Bucknell with me. Hopefully he makes a quick recovery in time to make up lost ground with college recruiting (awful timing for anybody trying to get recruited) and he can lead the team next year.
*Connection: At what age did you start playing lacrosse? When did you realize playing college lacrosse was a possibility for you?
Dotson: I started playing in third grade, so almost a decade ago. Wow, I feel old. I began to realize that I had a shot at playing in college around eighth grade, when I started playing at more competitive levels than I had previously and I was actually doing better than a lot of the kids out there. That's when I knew I wanted to play. It started to become a possibility after freshman and sophomore year, when I began going to recruiting camps and making the all-star games. Every time I saw a coach with a clip board on the side line (didn't matter what school) I knew I had to show up ready to play if I wanted to make it to the next level.
*Connection: What are you most looking forward to about the transition from high school to college?
Dotson: I'm really looking forward to being a little more independent and in charge of my own time. Also, all the common college clichés like meeting new people, going to a new place, the college lifestyle, all that good stuff. I'm going to be really busy with school and lacrosse but I'm still really excited for it. Athletically, I can't wait to compete at a higher level. I'm really excited to see how I match up, if I can work my way up to get some playing time, having a whole new set of people I'm going to see every day, and just being on a college team in general!
*Connection: Who is your favorite music artist? Why?
Dotson: My favorite musician changes a lot, but the playlist I listen to most right now is like a big mix of Bruce Springsteen, Tom petty, Bob Dylan, Van Morrison, Allman Brothers, John Mayer, Sublime, Red Hot Chili Peppers, The Who, CCR, Rolling Stones, Pearl Jam and Lynyrd Skynyrd. I guess that's kind of a long list, but I really like the slower rock/southern rock feel with some of the newer "chill" artists (for lack of a better word) like Aer. I'm always down for some country music, too. Anything by Zac Brown Band, Kenny Chesney, or George Straight is good, but Toby Keith is my favorite.
*Connection: What's your favorite movie? Why?
Dotson: Any super hero or action movie is fine by me. Any of the Avengers, Transformers, you name it. The Batman movies are probably my favorite. Bane is my favorite bad guy.
*Connection: What is your favorite food?
Dotson: My favorite food probably steak. Favorite drink is chocolate milk or grape soda. I really like anything barbecue, too.
*Connection: What is your favorite hobby outside of lacrosse?
Dotson: My favorite sport aside from lacrosse is probably basketball, but I really like golfing. Pool basketball is my favorite sport/summer activity, hands down. And I always like hanging out with my friends and playing video games or something. My favorite is a dead tie between NHL and Super Smash Bros.
*Connection: What is the farthest you've traveled from the Washington, D.C. metro area?
Dotson: My travel resume is pretty lame with all my vacation time being taken up by lacrosse until now. I think the farthest is when I went to California like seven years ago, but I wasn't old enough to appreciate it. I've been all up and down the East Coast for lax, though.
--- Jon Roetman