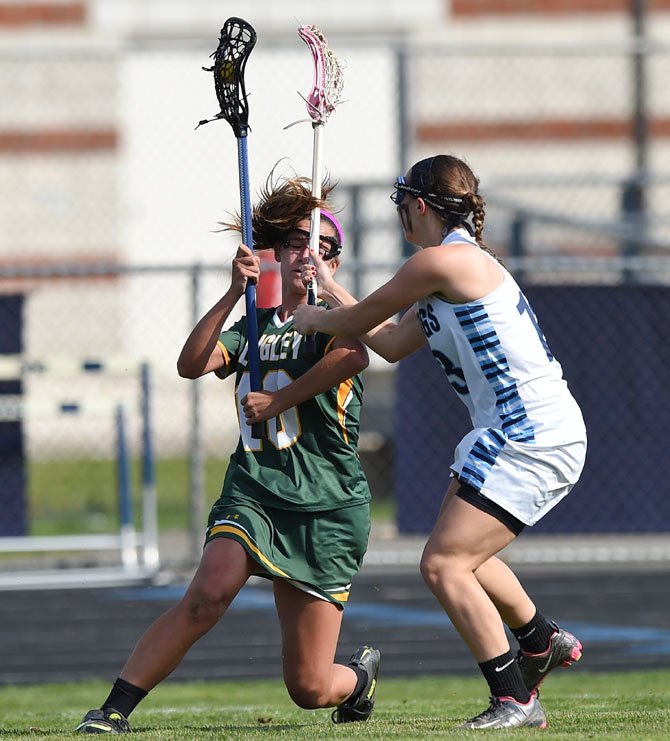 It didn't take long before Halle Duenkel was a two-sport standout at Langley High School.
As a freshman, Duenkel, a midfielder on the girls' lacrosse team, received second-team All-Liberty District honors and helped the Saxons reach the state championship game.
In the fall of 2013, Duenkel, then a sophomore forward on the field hockey team, received first-team All-Conference 6 honors. Later in the school year, Duenkel garnered first-team all-conference and second-team all-region accolades in lacrosse.
It also didn't take long for Duenkel to figure out her future.
As a sophomore, Duenkel committed to play lacrosse at James Madison University. Now entering her junior year, Duenkel recently participated in a Q&A via email with The Connection.
*Connection: You're committed to James Madison University. What made JMU the right fit for you?
Duenkel: James Madison was the right fit for me because it is a top-20 Division I lacrosse program and it has a top-20 business school. I love the coaches and I already feel at home!
*Connection: At what age did you start playing lacrosse? When did you realize playing college lacrosse was a possibility for you?
Duenkel: I started playing lacrosse when I was in third grade and realized that playing in college was a possibility for me when I was in seventh grade and quit soccer to focus on my lacrosse career. The recruiting process began so early that I committed in November of my sophomore year. I could have committed sooner but I wanted to take my time and find the perfect school for me.
*Connection: You're a junior. How do you feel about your lacrosse game now compared to when you were a freshman on the varsity?
Duenkel: I feel that there is more responsibility for me to be a leader on the team because when I was a freshman the upperclassmen were great role models for me. I really want to help the team go to states and win a state title for Langley. I'm excited about this year!
*Connection: How much time do you spend working on your lacrosse skills in the offseason?
Duenkel: Between wall ball and running I spend a couple hours every day to work on my skills in the offseason. I am also working on strength training at Max with Doug Vasiliadis to get a stronger shot and be better on defense.
*Connection: What is your favorite lacrosse moment from your first two years at Langley?
Duenkel: Beating Westfield my freshman year in a last-second buzzer beater and advancing into the state tournament.
*Connection: You also play field hockey at Langley. At what age did you start playing?
Duenkel: I started playing field hockey in eighth grade for Potomac Field Hockey. I wanted to understand the game before I played in high school.
*Connection: Do field hockey skills in any way translate to lacrosse?
Duenkel: Field hockey has taught me better body control and to move my feet on defense.
*Connection: How would you describe the Langley-McLean rivalry?
Duenkel: The rivalry is awesome! My mom went to McLean so there is always teasing and fun in our household during that time.
*Connection: What is your favorite food?
Duenkel: My favorite food is a good burger and a milkshake
*Connection: Who is your favorite music artist? Why?
Duenkel: Either Maroon 5 or Gavin DeGraw. I just saw Gavin DeGraw in concert last week at Wolf Trap. I love the lyrics to the music
*Connection: What is your favorite movie? Why?
Duenkel: 'The Hunger Games,' because I read the books, so it was interesting to see the director's spin on the book, or 'Happy Gilmore,' because any movie with Adam Sandler is hilarious.
*Connection: What is your favorite hobby outside of lacrosse and field hockey?
Duenkel: I love to cook and bake! I could watch the Food Network 24/7.
*Connection: What location is the farthest you have traveled from the Washington, D.C. metro area?
Duenkel: The farthest I have traveled is San Diego, Calif. The San Diego Zoo was incredible and I got a backstage tour with Shamu at Sea World. You can also just walk up to sea lions in La Jolla.
*Connection: Are you a pro sports fan? If so, who are your favorite teams?
Duenkel: My favorite sports teams are the Pittsburgh Steelers, Washington Nationals, and Washington Capitals.
*Connection: Do you have a favorite pro athlete(s)?
Duenkel: [Steelers safety] Troy Polamalu, [Nationals third baseman/outfielder] Ryan Zimmerman, and [Capitals right wing] Alex Ovechkin. I love it that Ryan Zimmerman lives in Great Falls now. Maybe someday I can coach his daughter if she wants to play lacrosse. :)