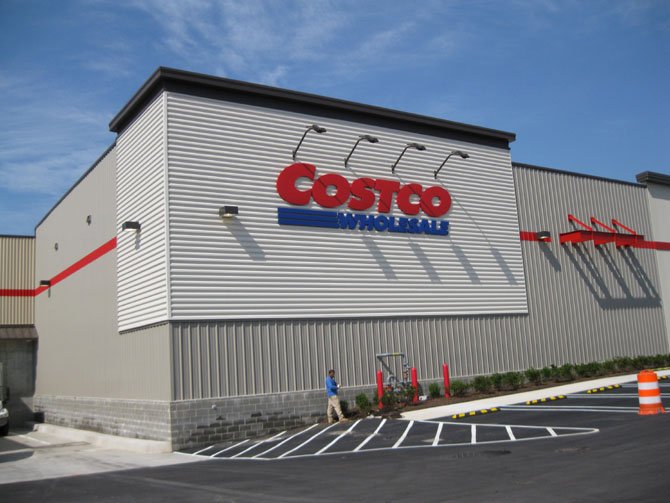 Mount Vernon — The new Costco is opening along Route 1 in Mount Vernon on Thursday, Aug. 8. The 140,000-square-foot warehouse club will employ more than 200 people, which brings the total number of Costco stores to 632 nationwide.
Construction crews, vendors, landscapers, and store employees have been working around the clock for 13 weeks preparing for the grand opening, which included a VIP Open House Party on Wednesday evening.
"We're really excited about opening," said store manager Zade Parson of Aldie, whose license plate spells: [heart]COSTCO. "I'm very impressed with the quality, value, integrity and service we're going to offer the community." She said Costco plans to participate in the Alexandria and Mount Vernon community. "We're going to be very happy to be a partner in the community."
The membership club specializes in low prices on quality brand-name merchandise, offering a smorgasbord of everything from tires to electronics to coffins — even Jeeps. It has deals with local car dealerships to provide discounts on many brands of automobiles.
Its tire center carries 114 different types of tires, with 1,400 Michelin and Bridgestone tires in its inventory. There is a 24-hour delivery service.
A Boutique Wine section is featuring high-end wines like 2009 Pahlmeyer Red Blend from Napa Valley or a 2009 Merus Cabernet Sauvignon from Napa Valley, among others.
The Road Shows and Tastings highlight rotating vendors such as Popcornopolis, Mayorga Coffee, Cuisine Solutions Sous-Vide and Prepared Foods and Aidells Sausage.
The clothing and shoe departments feature top-name brands such as Nike, Cole Hahn, Kirkland Signature shirts, Patagonia down jackets. There is also a full line of designer purses made by Chanel, Prada and Michael Kors.
This store has its own food court offering $1.50 for all-beef kosher hotdogs and sodas, pizza, beef brisket sandwiches with coleslaw, smoothies and caesar salads.
It has a bakery staff of 14, baking birthday cakes, fresh croissants, bread, cakes, cookies and pastries daily. Its deli staff of 12 will be preparing Bruschetta, proscuitto, smoked and cured meats, exotic cheeses, caviar, mushrooms and truffles. Professional meat-cutters on staff process and cut beef, buffalo and pork chops, among other meats.
Costco's Hearing Aid Center offers its own brand of Kirkland Signature Hearing Aids. Its Optical Center offers designer frames made by Oakley, Armani and Gucci. The pharmacy offers discounted prescription drugs.
The store's electronics department offers computer laptops, GPS devices, even a room-size 90-inch LED TV.
The full-service Photo Center offers photo processing, video to DVD conversion, photo repairs, canvas prints, passport photos, and ink cartridge refills.
The wireless cell phone center offers T-Mobile, AT&T, and Verizon products.
For larger kitchen appliances like refrigerators and stoves, Costo will deliver, install and haul away old appliances.
Costco has three types of membership: Executive for $110, Business for $55 and Gold Star for $55. To join, stop at the membership counter of Costco, or call 1-800-774-2678 and a membership application can be faxed. Bring the completed application and fees to the membership counter at any Costco or mail to: Costco Membership P.O. Box 34783 Seattle, WA 98124-1783.
The company opened in 1976 in San Diego under the Price Club name. In 1983, the first Costco warehouse opened in Seattle. It became the first company ever to grow from zero to $3 billion in sales in less than six years. Costco and Price Club merged in 1993, with 206 locations that generated $16 billion in sales. Today, Costco's total annual sales exceed $64 billion.
The new Costco is at 7940 Richmond Highway (Route 1), in Alexandria. Visit www.costco.com.