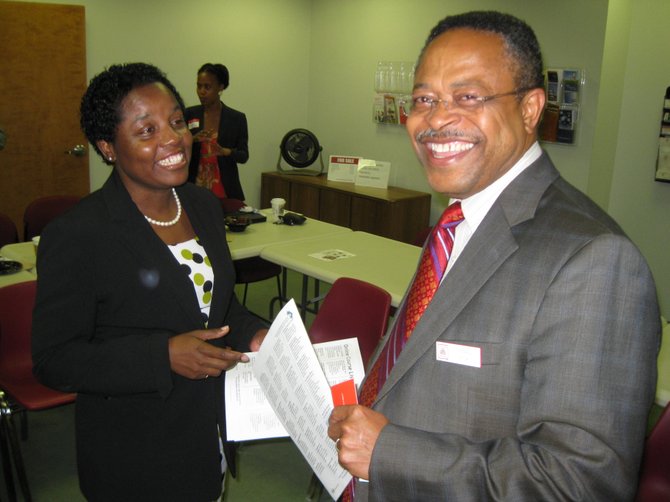 Juli Monroe, author of The Enthusiastic Networker—Growing a Successful Business, told a group of 20 people last Friday, Aug. 2, how to get their books published at the monthly networking breakfast of The Women's Business Center of Northern Virginia, located in Springfield.
For those who already write blogs or newsletters, she said 50 to 60 percent of their book is already in their posts. "You write what you know," she said. "You may know more than you think you know."
She explained differences between self-publishing and getting a contract with a traditional publisher and said to write at least 2,000 words a day for good measure, "You need to sit down and make it a habit," she added.
The venue on Loisdale Road in Springfield is where local entrepreneurs mingle and exchange ideas. But it's not just for women—as 40 percent who attend are men.
Kathy Wheeler, 62, of Lorton, is the president and CEO of the Community Business Partnership, an umbrella group started in 1995 that helps grow small businesses in Northern Virginia. This one-stop shop houses the Women's Business Center, the Small Business Development Center, the Incubator Center and the Micro-Lending Center.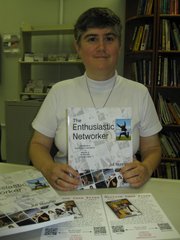 The Center help 2,500 clients a year—everyone from pet sitters to daycare providers to sign makers. It hosts 220-240 training events per year: classes, workshops, seminars, conferences and symposiums aimed at small businesses. It offers one-on-one counseling with experts in government contracting, CPAs, attorneys and businessmen—all volunteers.
For example, the latest training schedule offers "The ABCs of Starting a Business," "Five Steps to Creating a Marketing Plan" and "Registering Your Business—The Legal Nuts and Bolts," all for $25 each.
One hands-on workshop scheduled for Tuesday, Aug. 27 is "Forms & Applications for Federal Contractors." It shows how to get your DUNS number issued by Dun & Bradstreet—crucial for state or federal government vendors.
"If you wanted to start a business, they'll set you up with a CPA to discuss tax consequences with you," said Wheeler, a former textbook editor. "If you build decks and you need to learn how to do contracts, you'll meet with an attorney who may say 'this contract has holes in it," she added.
You can meet with a bookkeeper who will teach QuickBooks, or a marketing professional who will dissect social media, or an attorney for advice on patents and trademarks. "But you need a business plan," said Wheeler. "We tell you that you can't get free money and you can't start it with $5 bucks."
Everyone who comes through the door is thoroughly vetted before they can be volunteers, said Wheeler. "What we do is answer your questions about your small business."
"What the center provides is a business package," said Thomas Ntuk, of State Farm Insurance in Herndon, who is vice chair on the Board of Directors and supports the CBP with his expertise and financial contributions. "It provides coaching and mentoring opportunities for people who want to go into business for themselves."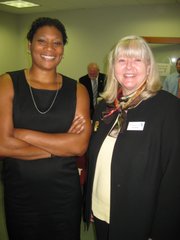 Ntuk said lots of people may start their own businesses but don't have a clue how to run them. "I'm there to create an environment to help the center to continue to provide women business owners with resources that they need to start and be successful in their business."
Wheeler said it's critical for business owners to have a strong foundation. "And we can help them do that by providing resources and tools for them to write their business plan and do their research."
She warns that small businesses will hit roadblocks but they guide them through that. "We can help pinpoint the problem and find solutions to the problem," she said.
Pauline Letich, 65, of Vienna, is the director of The Women's Business Center of Northern Virginia, and loves the variety of clients they serve. The center teaches everything from how to host a website to how to get a domain name.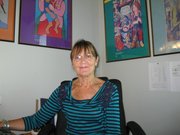 "We have a program with the Fairfax County Office for Children. We work with [daycare providers] on how to run a business," she said.
The class teaches daycare providers where to get help with contracts, types of insurance, why record keeping is important, and where to get a loan for their business.
"I started my business with no business experience. I didn't really know what I was doing," said Becky O'Neil, 49, owner of Becky's Pet Care on Cherokee Avenue in Alexandria. "They helped me write a business plan and that's what helped me get all my ducks in a row."
In 1998, the stay-at-home mom with one child started her dog-walking and pet-sitting business in her basement. Today she runs a million-dollar business with 3,500 clients, commercial office space at two locations and employs a staff of 90. Today, she sits on the board and participates in the Executive Roundtable to give back to the organization that helped her.
"She went through all the different training; she comes to the networking and continues to use our services," said Letich. "I think she's successful because she continues to learn for her business."
To reach the Community Business Partnership, call 703-768-1440 or Info@cbtonline.org or visit www.cbponline.org. The office is at 7001 Loisdale Road, Springfield, VA 22150.