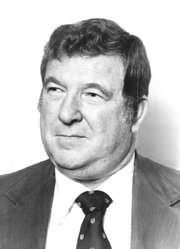 Mount Vernon — D. C. residents and three U.S. Presidents have placed their trust and safety in the hands of Nicholas "Nick" Beltrante for many years before he retired from the D.C. Metro Police in 1963. Now, at 86, the twice-retired Metro D.C. police homicide/robbery detective and private investigator continues to work toward safeguarding the rights of others by proposing to the Board of Supervisors the creation of a Police Citizens Oversight Board which would be charged with investigating citizen complaints, promoting police accountability, and serving as an independent voice for citizens.
This is only the latest effort by Beltrante to pursue justice and safeguarding the rights of citizens in a long and distinguished career.
Beltrante has been a part of Presidential and Washington history for the last half of the 20th century. Among his D.C. Metro police assignments, he served on details to protect Presidents Truman, Eisenhower and Kennedy. The former World War II Navy corpsman and U. S. Marine also participated in the investigation of the assassination of President Kennedy.
After a career with the D.C. Metro police — with 37 commendations — Beltrante moved to Virginia, forming his own private investigation firm in 1971, Beltrante & Associates, Inc.
Nicholas Beltrante
Age: 86
Education: Bachelor of Laws degree, LaSalle University; Associate Degree, Penn State Institute of Criminology
Military Service: Former WW II hospital corpsman, U.S. Navy. Served on the Hospital Ship USS Consolation in Tokyo Bay, Japan as a pharmacist mate. After four years transferred and served in the U.S. Marine Corps.
Employment: Metropolitan Police Department Detective, Homicide and Robber . Also, served on the Presidential security detail to assist the Secret Service in protecting the President.
Business: Founded Beltrante & Associates, Inc. in 1971, a private investigation agency. Sold in 2007.
Some of Beltrante's more public assignments as a private investigator included debugging the Democratic National Headquarters at the Watergate Complex and serving as director of security for the George McGovern Presidential Campaign. He also voluntarily played a key role in establishing state licensure requirements for private investigators, formed a Virginia association of private investigators, and was instrumental in drawing up a code of ethics and professionalism for private investigators.
His 86 years and two retirements have not slowed or dulled his sense of justice. Beltrante followed the fatal shooting of Vietnam veteran David Masters some three years ago. He was disturbed by the unprovoked shooting and decided then to create an advocacy organization: the Virginia Citizens Coalition for Police Accountability to serve as support for his efforts to convince the Board of Supervisors that they should set up a police citizen oversight board to investigate complaints about alleged police misconduct. The idea was rejected. That was in 2010. Instead the board assigned its independent auditor the responsibility to investigate citizen complaints of alleged police misconduct.
Since 2010 Beltrante and the coalition have identified six victims of police shootings since 2006. They were all unarmed as far as he can determine. One was shot 11 times. Another was shot in front of his house by a SWAT team member who said he accidentally bumped his arm on the door and his gun went off as he was getting out of his car to present a warrant to the suspect for sports gambling. The victim was shot in the chest and was unarmed. He had no police record, and was an optometrist. Although the police officer was not prosecuted the county settled a lawsuit with the victim's family for $2 million.
Since Beltrante began his effort to improve citizen oversight, the U.S. Justice Department's civil rights division has provided the CCPA with a list of 61 civil rights complaints that have been filed against Fairfax County. This is now part of the evidence that Beltrante's organization plans to include as they prepare to file a civil rights complaint with the Department of Justice against Fairfax County.
Highly regarded by his peers, Beltrante was honored by the National Association of Investigative Specialists with its Lifetime Achievement Award.
According to Martin Bordell, a fellow D. C. police officer, "Nick Beltrante represents the highest level of professionalism; he is a true American; a public service record second to none."
Kevin Hooks, president of Interprobe, Inc, and a former employee of Beltrante's who has known him since 1984, sums up his character: "He has the respect of all of us who worked for and with him, and we knew him as an excellent investigator. Not content to merely run a private investigation agency, he lobbied successfully for state license requirements for private investigators, and founded the Association of Private Investigators of Virginia. He left the profession better than he found it."