Two beauty queens, Lisa Opie from Williamsburg, Va. and Stefania Sita from Clifton, have taken a stand against bullying and launched an anti-bullying campaign.
Their campaign focuses on combating bullying in schools, and encouraging victims to stand up for themselves. The purpose is for individuals to feel the freedom to express themselves without fear of being bullied.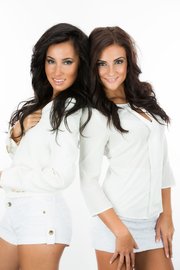 "I used to be a bully! At the time I did not realize that my actions and words could have such a negative impact on someone, it could push them right off the edge. I do not want to be the cause of anyone's sadness or to hold them back from being who they are," says Stefania Sita, 21, a graduate of Centreville High School, as she reminisces on her younger years, wanting to take a stand and make up for her actions.
Lisa Opie, 22, a graduate of Jamestown High School, has a different history with bullying, as she was a victim of bullying for over eight years. "Being bullied led me to eating disorders, drug abuse and other bad habits. Luckily, I turned my life around and am now a successful model, university graduate and business owner." Lisa adds, "I used to hide the fact that I was bullied and I was ashamed of it but I think I can use my story to inspire others."
Lisa and Stefania are both successful models and entrepreneurs and chose to use their names in the fashion and entertainment industry to help youth struggling with bullying today.
"Bullying leads to terrible things like depression, self harm, low self esteem, drug abuse, among other things. If we can eliminate bullying, we can eliminate many problems our youth face today," says Opie.
"As shameful and damaging as my bullying was, it evoked strong emotions, determining me to not be indifferent against this issue, but to stand against it and take action," says Sita. "Together Lisa and I will unite as a strong force that will defeat bullying."
Lisa Opie is the current Miss Florida Nationwide and Stefania Sita holds the title of Miss Hawaii Nationwide.