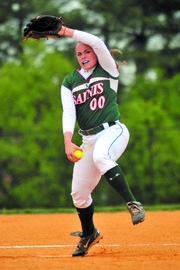 Alexis Sargent, a 2013 St. Stephen's & St. Agnes graduate, was a four-year force in the pitcher's circle for the Saints softball program. She struck out more than 1,000 batters during her high school career and was a three-time VISAA Division I first-team all-state selection.
Along with personal accolades, Sargent's efforts led to team success. In 2010, the Saints finished in a three-way tie for first place during the ISL regular season and went on to win the ISL tournament championship. In 2012, the Saints won ISL regular-season and tournament titles.
Sargent will continue her softball career at the University of Pennsylvania and study at the institution's Wharton School of business.
Q: What made Penn the right fit for you?
Sargent: After a lot of thinking, Penn was the right fit for me because I was able to focus on my future success as an adult and play the sport I love. Penn offers huge academic and athletic opportunities that are perfect for a student-athlete like myself, and a spot in the Wharton business school is a once-in-a-lifetime opportunity that I could not pass up.
Q: Any word on playing time as a freshman?
Sargent: The only guarantees my coach makes with respect to playing time is that if you are one of the top nine batters, she will find a spot for you in the lineup. After all, you can't win if you don't score! I believe there will be a lot of competition for playing time at every position on the field, but as a competitor, I expect nothing less. Competition throughout the team makes every individual better.
Q: Will you exclusively be a pitcher?
Sargent: I plan to both pitch and play first, but my playing time depends on how I'm hitting and if I am truly competitive at both positions.
Q: What is your favorite memory of playing softball at SSSAS?
Sargent: My favorite SSSAS softball memory would have to be overcoming the adversity we faced my freshman year to win the ISL championship against Maret (to whom we had lost against earlier in the season in a 14-inning pitcher's duel).
Q: What is the top speed one of your pitches has been clocked?
Sargent: The top speed I've been clocked at is 63 mph.
Q: You wore No. 00 in high school. Why that number?
Sargent: I've worn 00 since I was 12 years old. I joined a new team, but someone already had my number (2). I had no idea what number I wanted until my new coach informed me that he did not allow anyone to have the numbers 1, 99, and 00. I knew then that I wanted 00 because it was unique. Until then, I didn't even know you could wear that number in softball! He made an exception for me, and that season I fell in love with 00 and haven't changed numbers since.
Q: What is your home town?
Sargent: I grew up in South East D.C., and when I decided to go to high school at St. Stephen's, my family and I moved to Alexandria. I consider them both to be home.
Q: If you could go back and change one thing about your high school athletic career, what would it be?
Sargent: If I could change one thing about my high school career, I would have spent way more time in the weight room. I can only imagine how much stronger and better I would be today if I spent my previous seasons and offseasons in the weight room improving my game. Starting from freshman year, boys are always encouraged to "get big" and go lift, but it was not until this summer that I became serious about getting stronger. I'm seeing the difference in my game already, and only wish I had started earlier.
Q: At what age did you start playing softball? When did you realize playing college softball was a possibility for you?
Sargent: I began playing T-ball at 4 years old and continued to move up the ranks in baseball until I was 8. A family friend had suggested I try softball since my co-ed baseball opportunities would soon end. Once I picked up a softball I knew it was the sport for me. So I guess you could say I've been around the sport my whole life.I didn't realize college softball was a possibility for me until I was about 12 years old. I had always played with older kids until then, so I was generally smaller and less talented, and never felt as though I was good enough to compete at the collegiate level. However, when I began playing with kids my own age, my views changed completely. I became determined to make it to the collegiate level.
Q: What are you most looking forward to about the transition from high school to college?
Sargent: I am most looking forward to the rise of intense competition, and the great Penn pride!
Q: Who is your favorite musician? Why?
Sargent: My favorite musician would have to be Chris Brown. Aside from the drama, he is a truly talented individual. He sings with so much heart and soul, and he is a talented artist and dancer. Not to mention he's a Virginia boy! It's always great to see people make it out of your own state.
Q: What's your favorite movie? Why?
Sargent: My favorite movie would have to be "The Princess Bride" because it is absolutely hilarious! There are so many clever jokes and great actors making it a favorite since my childhood.
Q: What's your favorite food?
Sargent: My favorite food would have to be anything my mom cooks! She works magic in the kitchen, and keeps me a happy girl.
Q: What is your favorite hobby outside of softball?
Sargent: I used to love competing in Tae Kwon Do! I earned my second-degree black belt in sixth grade. Unfortunately, I had to stop competing so that I could focus on my academics and softball. Now I spend my free time outside of softball with my family since I am gone so frequently.
Q: What location is the farthest you've traveled from the Washington, D.C. metro area?
Sargent: The farthest I've traveled out of the metro area would be to San Diego for softball nationals.
— Jon Roetman