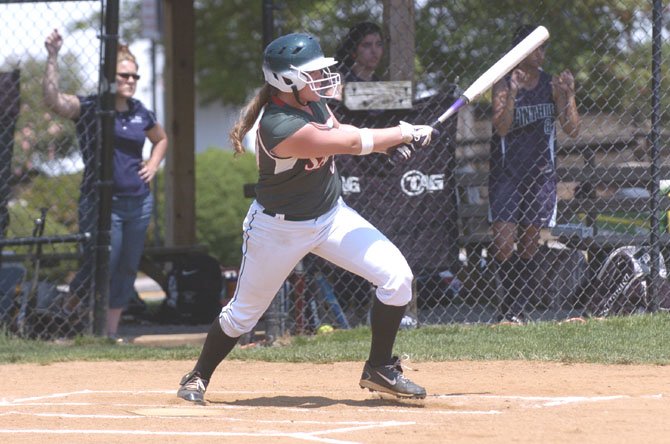 Vienna — With two on and two out in the sixth inning of the ISL AA softball tournament final, St. Stephen's & St. Agnes pitcher Alexis Sargent induced what appeared to be an inning-ending groundball from Flint Hill's Emily Davine. The Saints had a 6-0 lead and seemingly little to worry about as the ball rolled along the infield dirt.
What started as a routine grounder, however, didn't end that way. Instead of the third out, a Saints error allowed a run to score and kept the inning alive. The ensuing batter, Michelle Webber, produced a two-run single, followed an RBI single by Michelle Abt and a four-pitch walk to Ashli Everstine. Sargent finally retired the Huskies with a strikeout, but Flint Hill had made things interesting with a four-run frame.
In previous seasons, Sargent might have melted down under the pressure she put on herself to carry the St. Stephen's & St. Agnes softball team. A teammate's mistake combined with giving up back-to-back hits might have been enough to make her crack.
Not anymore.
Now a junior, the University of Pennsylvania commit remained composed. Rather than stress over the four runs, Sargent stepped to the plate in the bottom of the sixth and got two of them back.
Sargent drove in a pair of insurance runs with a sixth-inning single, helping the Saints secure an 8-4 victory over the Huskies on May 13 at Flint Hill School. One year after losing to Georgetown Visitation in the tournament final, the Saints won the AA tournament title and an outright regular season championship in the same season for the first time in school history.
"[O]n both sides of the ball, she was awesome."

— SSSAS softball coach Stephanie Koroma about Alexis Sargent
"It's a lot different than last year," Sargent said. "I think I've grown a lot, personally. Last year, I kind of freaked out … but this year I stayed calm and we stayed together as a team instead of falling apart and I think that's why we pulled this out in the end. We all showed a lot of heart. …
"Physically, there's not too much more I can do, but mentally I'm maturing not only off the field but on the field and realize that my teammates have my back and that it's not all on my shoulders. That I have a great team to back me up and that they're going to help me get through it."
SSSAS head coach Stephanie Koroma said she notices a difference in Sargent.
"She's definitely matured a lot in terms of her ability to rebound and bounce back after she gives up a hit or after the fielders make an error," Koroma said. "She's done a much better job, too, of realizing she doesn't have to shoulder everything upon herself and to rely on her teammates."
Sargent may have grown comfortable with relying on her teammates, but she certainly did plenty to help them. A first-team all-state selection, Sargent finished Sunday's game with 13 strikeouts and did not allow an earned run. At the plate, Sargent went 4 for 4 with five RBIs.
"[O]n both sides of the ball," Koroma said, "she was awesome."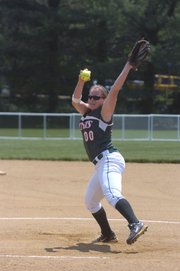 Stone Ridge intentionally walked Sargent three times in the tournament semifinals. Flint Hill chose to pitch to Sargent and paid for it.
No. 00 belted an RBI single in the first inning, delivered a two-run double in the third, singled in the fifth and drove in two with a single in the sixth.
"It was definitely a relief after three intentional walks yesterday that I got to see a couple pitches to hit," Sargent said. "I love to hit and I love being able to help my team out. It meant a lot to me and I'm glad I could do it."
Sargent's college decision came down to Penn and the University of Iowa. In the end, the benefits of an Ivy League education outweighed the opportunity to play Big Ten softball.
"I just realized, in the long run, academics are going to mean a lot," she said. "Being able to attend the Wharton Business School, there's nothing like it out there. That was the game-changer."
SSSAS first baseman Taylor Heasley will also be playing college softball. The senior will attend Ohio Wesleyan University.
"I originally had started off with a list of 25 schools that I was being recruited by, so I visited all of them," Heasley said. "I went back to OWU three times and I met the coach, I stayed with the team and it seemed like the best fit for me. They were all so welcoming and it was a big fit academically."
Against Flint Hill, Heasley finished 3 for 4 with a triple, a double and four runs scored. Emma Luparello went 1 for 3 with three RBIs. Allison Buch went 2 for 4.
The victory improved the Saints' record to 19-3-1, including an undefeated record against ISL opponents.