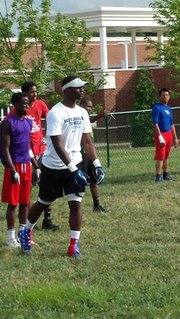 During an interview after a recent T.C. Williams football practice, defensive standouts Jeremiah Clarke and Malik Carney jokingly switched names while introducing themselves to a reporter.
With Clarke and Carney having committed to play for the University of North Carolina, any attempts to mask their on-field identity during the season will also likely fail.
Clarke, a 6-foot-5, 280-pound defensive tackle, and Carney, a 6-foot-3, 205-pound linebacker, are the leaders of a T.C. Williams defense that returns nine starters, and each figures to be on the minds of opposing coaches.
"[Carney] is a very versatile athlete," TC defensive coordinator Avery Williams said. "He can play defensive end, he can play the middle of the defense, he can even drop back in the secondary, he has that ability. … [Clarke is] obviously one of the most explosive defensive tackles in the area. He has tremendous speed, outstanding quickness and brings great leadership up front. … He's doing a great job motivating the rest of the guys."
Factor in a group of playmakers on offense, improvement through offseason conditioning, and confidence built from a season-ending four-game winning streak in 2012 and the Titans believe they have what it takes to snap the program's 22-year playoff drought.
"Our expectations are," Clarke said, "if we're not in the playoffs, that's a letdown."
TC has come close to ending the streak in recent seasons but hasn't gotten over the hump. In 2009, the Titans needed a home win against Lee in the regular season finale to reach the postseason, but came up short. In 2010, TC posted a 6-4 record, its first winning season since 1995, but it wasn't enough to get in. After a 3-7 season in 2011, TC returned to .500 in 2012, finishing 5-5 after closing the regular season on a four-game winning streak.
T.C. Williams, which captured state championships in 1971, 1984 and 1987, hasn't seen the playoffs in more than two decades. However, Clarke said members of this year's team, who weren't even born the last time the Titans were in the postseason, don't worry about battling history.
"You know what has happened and you sort of, not just forget about it, but you push it to the side and focus on the now," Clarke said. "The 22 years is there, but that's really just for media. We don't care about how long it's been since [we've] been to the playoffs, we're focused on getting there. ... It's really not lingering over our heads."
After a 1-5 start last season, the Titans regrouped and finished strong --- something they hope will carry over into this season.
"Last year, we were 5-5, a couple power points from making the playoffs," Carney said. "Going into the second half of that season, we started rolling and clicking and we just want that momentum to keep going."
"Everybody's looking for us to do big things this year, so we can't let our city down and our school down."

--- T.C. Williams senior Rashawn Jackson
Clarke and Carney aren't the only talented athletes on the TC defense. Senior linebacker Kevin Perry and senior defensive tackle Michael Gray should also be difference-makers in the Titans' base 4-3 scheme. Senior Kyreem Walton is a defensive end.
Senior Rashawn Jackson is a four-year starter in the secondary. Williams said Jackson is the team's top cover corner, but he will likely play safety this season. Senior Tyrice Henry returns at free safety and senior Philip Tyler is a talented cornerback.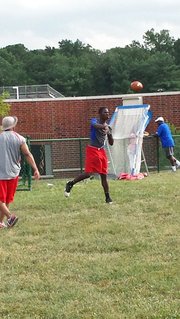 "We're looking for a big year," Williams said. "With the talent that we have, we should have a big year."
On offense, TC will have to replace three-year starting quarterback Alec Grosser, who was selected by the Atlanta Braves in the 11th round of the 2013 Major League Baseball draft. Six-foot-2 junior Darius Holland has a chance to be the Titans' next quarterback, but he'll have to beat out fellow junior Sam Deen for the position. Head coach Dennis Randolph said each quarterback throws the ball well, but Holland has the advantage when it comes to running with the ball. Neither quarterback has any varsity experience.
"Whoever the quarterback is," Randolph said, "they're going to be surrounded by kids that have a lot of talent."
Carney is the team's top running back. Seniors Lamont Whiteside, Tyler and Jackson could also see carries. Junior Terry Jordan and senior Timmy Rattanaphone are threats at receiver.
Clarke and White are the tackles on the offensive line. Senior RJ Thorne is the center.
T.C. Williams will play in 6A North's Conference 7 after the VHSL's six-class realignment. The conference is composed of seven of the eight members of the former Patriot District. Lee joined 5A North's Conference 13.
The Titans will host a scrimmage against Herndon at 5 p.m. on Thursday, Aug. 15. TC will open the regular season on the road against Oakton at 7:30 p.m. on Aug. 30.
"Everybody's looking for us to do big things this year," Jackson said, "so we can't let our city down and our school down."