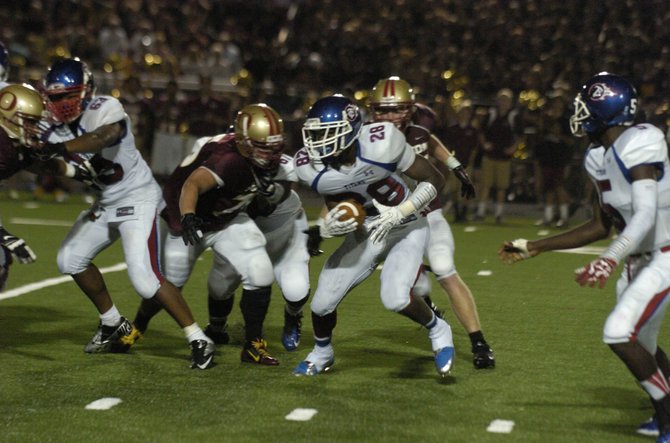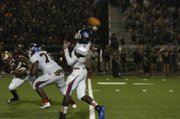 After an Oakton punt bounced toward the sideline early in the second quarter, T.C. Williams return man Rashawn Jackson noticed the ball remained in bounds.
He also noticed an opportunity.
"I thought the ball rolled out of bounds, and then when it didn't, nobody was covering the ball," Jackson said, "so I just said, 'there's my chance right there.'"
Jackson grabbed the ball and raced 53 yards for a touchdown, helping give the T.C. Williams football team a 24-point lead en route to a 38-2 season-opening victory over the Cougars on Friday night at Oakton High School. Five different Titans scored a touchdown in the program's first victory against a team from Conference 5, formerly known as the Concorde District, since beating Oakton in 2009.
The Cougars, who graduated several key players from their 2012 Northern Region championship team, were no match for the talented Titans, who scored on their first offensive play from scrimmage and led 31-2 at halftime.
T.C. Williams hasn't reached the playoffs since 1990, but one wouldn't have known it from watching Friday's contest.
"This win means a lot," Jackson said. "We had to send a message for everybody on our schedule. We expect to do this."
TC took control early in Friday's game. After forcing an Oakton punt during the game's opening possession, the Titans scored on their first offensive play when running back Malik Carney, who is committed to the University of North Carolina as a linebacker, carried 54 yards into the end zone. After a 52-yard punt return by Jackson set up a 31-yard field goal by Zach Eisenhour, the Titans extended their lead to 17-0 when quarterback Darius Holland connected with Philip Tyler for a 46-yard touchdown in the opening minute of the second quarter.
Tyrice Henry hauled in a 73-yard touchdown pass from Holland late in the first half and TJ Jordan caught a 26-yard scoring toss from Holland in the third quarter.
"Beating Oakton High School, they're not as strong as they've always been, but they're still a very strong program," TC head coach Dennis Randolph said. "By the end of the year, they're going to be in playoff contention, so I think we beat a playoff team. … That was our goal: to come in here and show them that we could play with them. We have some very, very, very good athletes."
"This win means a lot. We had to send a message for everybody on our schedule. We expect to do this."

--- T.C. Williams senior Rashawn Jackson
One of those athletes is Holland, a 6-foot-2, 182-pound junior who made his first varsity start Friday. He completed 9 of 14 passes for 205 yards and three touchdowns. He also rushed three times for nine yards --- numbers which would have been better if not for a penalty and a 12-yard loss on a fumble recovery.
"I was confident in our team," Holland said, "but I was nervous."
Holland saw limited action as a varsity quarterback during his sophomore season, and played receiver for the junior varsity team. He performed well during the offseason, according to Randolph, and had a strong showing against the Cougars.
"He'll grade out OK," Randolph said. "He made some exceptional plays. He made some mistakes, but overall he did a great job. Him being an athlete back there and the things he can do, if you don't box him in, he's going to take off on you and he did that a couple times tonight."
Carney carried 12 times for 77 yards. Henry had two receptions for 78 yards, Jackson finished with two catches for 37 yards and Tim Rattanaphone had two receptions for 15 yards.
Oakton's points came in the second quarter when the T.C. Williams punter stepped out of bounds in the end zone, resulting in a safety. It was the Cougars' lowest scoring output since being shut out, 35-0, by eventual state champion Westfield in October of 2007.
The Titans held Oakton to 105 yards of offense, including minus-2 on the ground. Five-foot-8 senior Michael Ficarra, making his first varsity start at quarterback, completed 8 of 15 passes for 107 yards. Senior Bobby Lam was Oakton's leading rusher with 28 yards in 11 carries.
"We had a senior-laden team (in 2012), we're returning two starters on offense this year," Oakton head coach Jason Rowley said. "We've got to bring some of these younger guys around and some of the guys that are seniors that have waited their turn, they've got to learn how to play under the lights and take care of the little things, and we didn't take care of the little things tonight. … We got beat in every facet of the game. …
"TC's a good football team, take nothing away from them. They've got talent all over the place. They've got two Division I committed players (Carney and lineman Jeremiah Clarke). [Their] quarterback, he can throw the deep ball as well as anybody in the region. They're impressive. Coach Randolph has done an excellent job over there."
T.C. Williams will travel to face the Centreville Wildcats at 7:30 p.m. on Friday, Sept. 7. Centreville won its opener against West Potomac, 51-7, on Thursday.
Oakton will host Madison at 7:30 p.m. on Friday.