The sixth annual MPAartfest arrives on Sunday, Oct. 6, from 10 a.m.-5 p.m. in McLean Central Park, at the intersection of Dolley Madison Blvd. (Rt 123) and Old Dominion Drive. Forty-seven juried artists will exhibit and sell their art, transforming the park into a landscape of mini-galleries.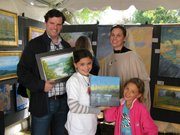 Created for the community by McLean Project for the Arts, MPAartfest draws thousands of art-lovers of all ages to enjoy (and purchase) original art, listen to live music, create their own masterpiece at MPA's Innovation Station and picnic on delicious selections from local restaurants. Parking is free and easy with shuttle buses running all day.
Event partner sponsors are the McLean Community Center and the Fairfax County Park Authority. The Innovation Station art tent is sponsored by TTR Sotheby's International Realty.
Visit McLean Project for the Arts in residence at the McLean Community Center at 1234 Ingleside Avenue in McLean. For more information about MPA and MPAartfest, visit www.mpaart.org or call 703-790-1953.
The critically acclaimed, non-profit contemporary visual art center McLean Project for the Arts is now offering art classes for all ages, taught by professional instructors, in addition to offering professionally-curated contemporary art exhibits in three art galleries at the McLean Community Center.
McLean Project for the Arts is also planning their annual, upcoming art festival, MPAartfest, a fall arts festival with art, music and food, on Oct. 6, 10 a.m.-5 p.m. in McLean Central Park.
MPA puts on the ArtReach program for area schools, featuring docent-led gallery tours for elementary school students, including tours and hands-on art activities that demonstrate art principles and incorporate many of the concepts included in the SOLs. MPA provides free bus transportation to its galleries for Fairfax County's designated Title 1 schools to reach students who may not otherwise have the opportunity for field trips due to a lack of resources.
In addition to exhibition and art education programs, MPA also offers art talks, artist workshops, family art workshops and day trips to area galleries and museums. 
MPA expands its reach as a partner with the Virginia Museum of Fine Art and Fairfax County Public Schools. MPA is funded by individual and corporate donations and receives grants from the Arts Council of Fairfax County, The Virginia Commission for the Arts and the National Endowment for the Arts.