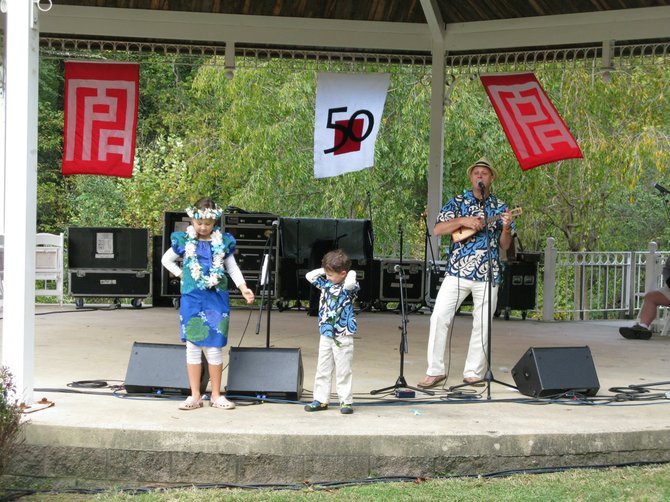 Photo Gallery
McLean Artfest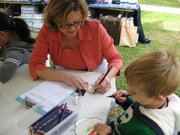 Click Photo for Flash
What and Where
What: McLean Project for the Arts presents the 7th annual MPAartfest
Where: McLean Central Park at the corner of Rt 123 and Old Dominion Drive
When: Sunday, Oct. 6, 10 a.m.-5 p.m., rain or shine
Info: www.mpaart.org/artfest.php
Q: What exactly is MPAartfest?
A: MPAartfest, presented by McLean Project for the Arts, is a great day in the park surrounded by wonderful art for sale, lively music, art activities for all ages, tasty food and a little wine.
Q: What kind of art is for sale?
MPA selected 49 artists (see the complete list) out of many who applied. You will find paintings, watercolors, photographs, textiles, jewelry, sculptures and ceramics all in a wide range of prices. McLean Central Park becomes a lively landscape of mini art galleries.
Q: Can I bring the kids?
A: Absolutely! MPAartfest is a community event for the whole family. There will be art activities for all ages at Innovation Station. Your family can stroll through the Children's Art Walk which features art from K-6 grades from schools in the McLean area. You can watch or try your own hand at live figure drawing at Open Studio.
Q: Is there music in the Gazebo?
A: What's an arts festival without lively music! Listen (and dance) to great music from a wide variety of performers. Headlining the music and back for an encore, will be McLean's own Scott Ramminger and the Crawstickers who have a new CD that is getting airplay on Sirius Radio. Also performing are The Exceptions, the winners in last year's MPAartfest Idol Talent Search; and this year's McLean Teen Center Teens Got Talent winner, Alexa Noelle Topetzes.
The line-up:
Ukulele Phil and the Hula Kids: 10-10:30 a.m.
The Indigo Project: 10:45-11:30 a.m.
Scott Ramminger and the Crawstickers: 11:45 a.m.-1:15 p.m.
Madeleine Chalk: 1:30-2 p.m.
The Exceptions: 2–2:50 p.m.
Alexa Noelle Topetzes: 3–3:30 p.m.
Daniel Wrigley: 3:45 to 4:30 p.m.
Q: Will there be food available?
A: There will be delicious offerings from Greenberry's, JGilbert's, Lebanese Taverna, Mama's Donut Bites, Naked Pizza and Nourish Market. You can take a little break from all the art shopping at the MPA Beret Café, back for its second year offering red and white wine.
Q: Will the McLean Project for the Arts galleries be open on MPAartfest?
A: Yes! Make sure you come see the current exhibition while you are at MPAartfest. In the gallery you can register for a free drawing of local restaurant gift cards and music CDs and, if you become a member of MPA the day of MPAartfest, you will get a special MPA tumbler. MPA is located in the McLean Community Center.
Q: Where is parking?
A: Convenient satellite parking will be available at 6862 Elm Street at the Fleetwood Road intersection and at Cardinal Bank located at the intersection of Dolley Madison Boulevard (Rte. 123) and Beverly Road. From there, free and frequent shuttle bus service will ferry passengers to and from MPAartfest. Handicap Access space will be available at Dolley Madison Library.
Q: How much does it cost to attend MPAartfest?
A: MPAartfest is free, but a $5 donation to McLean Project for the Arts is greatly appreciated.
Q: How can all this fun be free?
A: Without the help of MPAartfest sponsors and donors, MPA could not provide this free event to the community, nor allow the artists to keep 100 percent of their sales. As a 501(c)(3) nonprofit, MPA must look to private sources to raise the majority of the funds needed for its operations, programs, exhibitions and of course, to bring MPAartfest to McLean. Many thanks go to our event partners, McLean Community Center and Fairfax County Park Authority, sponsor Capitol One and the office of Dranesville Supervisor John Foust.
Artists Selected for MPAartfest 2013
Jill Banks, Michele Banks, Nancy Bass, Barbara Bayne, Aaron Bowles, Laurie Breen, Cynthia Burke, Analya Cespedes, Lisa Cimino, Gina Cochran, Andrea Cybyk, Meg Dickerson, Joseph Craig English, Mary Exline, Laurie Fields, Bill Firestone, Elizabeth Floyd, Bruce Fransen, Betty Ganley, Courtney Gillen, Rob Glebe, Cindy Grisdela, Elizabeth Grusin-Howe, Tom Gudaitis, Jennifer Bernhard Hatfield, Carolee Jakes, Barb Januszkiewicz, M. Jane Johnson, Benjamin Keys, Greg Knott, Barbara Koffer and Sam Schmer, Jana Lamberti, Julie Lansaw, Christiane Lavin, Allen Levy, Joyce McCarten, Nancy McIntyre, Jenae Michelle, Mary Ellen Mogee, Begona Morton, Debra Nicholas, Rebecca Ravenal, Jenny Reeves, Jim Rehak, Erika Rubel, Connie Slack, Missy Stockton, Lisa Tureson and Suzanne Yurdin.