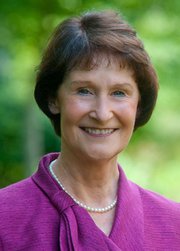 Hello and welcome to Fairfax County! Congratulations on finding the best place in the country to live, work, play and grow older comfortably. Fairfax County is home to a fantastic public school system, top tier businesses and some of the best parks and open spaces in the DC Metro region.
The Fairfax County Public School system is consistently ranked among the best in America. We have a new superintendent, Dr. Karen Garza, and I look forward to working with her to make our world class school system even better.
Fairfax County is also home to wonderful institutes of higher learning. Northern Virginia Community College, with campuses in Annandale and all over Northern Virginia, boasts Guaranteed Access Agreements offering an affordable path to all Virginia's highly-rated public universities. NOVA also partners with the region's high schools to offer dual enrollment opportunities, giving students a head start on their college education. George Mason University in 2012 was named the top "Up-and-Coming University" by U.S. News and World Report. Mason was just this summer recognized as a top 100 university for research by Forbes magazine.
Fairfax County is home to almost 50 corporate or U.S. headquarters of major firms, and 10 Fortune 500 company headquarters. Hilton, Volkswagen, Bechtel and Northrop Grumman have all moved their corporate or U.S. headquarters to Fairfax County since 2007.
But it's not all big business here. About 97 percent of the companies in Fairfax County are small businesses with fewer than 100 employees and less than $1 million in annual revenue. Our business community is also diverse, boasting the largest number of foreign-owned firms in the region. Through the first six months of this year, our Economic Development Authority worked with 87 companies that will add more than 2,800 jobs to the county economy.
Fairfax County is home to more than 48,000 acres of parks and open space, and over 500 miles of hiking and biking trails. In 2010, our Park Authority won the coveted Gold Medal for Parks and Recreation from the National Recreation and Park Association and the American Academy for Park and Recreation Administration.
As chairman of the Board of Supervisors, I am elected at-large by all registered voters in Fairfax County. If you have any questions or concerns, please email me at chairman@fairfaxcounty.gov or call my office at 703-324-2321. Thanks for making Fairfax County your home!