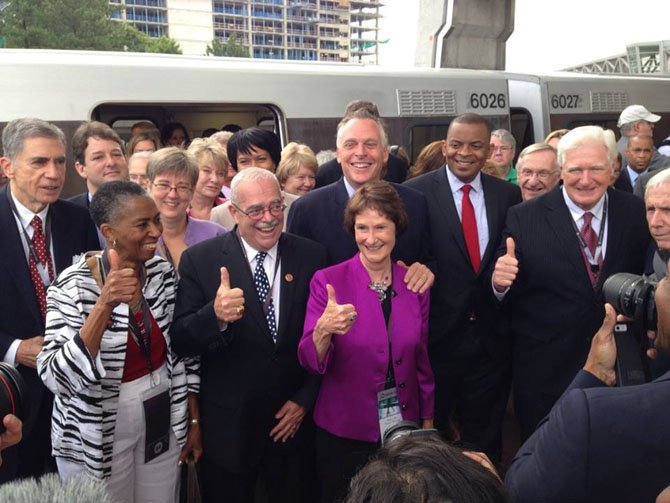 Welcome to Fairfax County, the best place in the country to live, work and play. Fairfax County is home to a fantastic public school system, top tier business and shopping opportunities, compassionate human services, and some of the best parks and open spaces in the D.C. Metropolitan region. This summer featured the long-awaited opening of the WMATA Silver Line, which connects the Reston and the Tysons areas of the county to the entire Metrorail system.
Last June, I cut the ribbon to open a new segment of our Fairfax County Cross County Trail, named after former Chairman (now congressman) Gerry Connolly. It was his vision, while serving on our board, to build and connect trail sections to make it possible for someone to hike through all nine county magisterial districts. The northern end of the trail begins in Great Falls National Park at the breathtaking Potomac River and travels south to the historic Occoquan River.
The trail passes through stream valleys and meadows, then winds through fascinating Laurel Hill, site of the former Lorton Prison. In addition to parkland and a golf course, these grounds are now home to the Workhouse Arts Center where visitors can watch artists in action and enjoy plays, performances and community events such as Springfest every April.
Fairfax County has something for everyone. Northern Virginia Community College offers more than 160 degrees at the associate's level and numerous certificate programs. Its partnership with George Mason University provides families and students with a seamless, cost-effective path to a four-year degree.
George Mason University, recently named one of the top five "Up-and-Coming Universities" by U.S. News and World Report, is also recognized as one of America's Best College Buys by Forbes magazine. Under the presidency of Dr. Angel Cabrera, Mason is fast taking its place as a university for the world.
Fairfax County is known for its business-friendly climate. Time Magazine has described us as "the epicenter of the Washington region's job boom" and "one of the great economic success stories of our time." Although home to eight Fortune 500 company headquarters (corporate giants such as Northrop Grumman and Booz Allen Hamilton) about 97 percent of the companies in Fairfax County are small businesses with fewer than 100 employees. We are a great location for startups.
Of course, Fairfax County's greatest asset is a population that is welcoming and engaged. People from all over the globe have made Fairfax County their home, enriching our community with diverse cultures and entrepreneurship. Visit Fairfax County's website at www.fairfaxcounty.gov to learn more about what Fairfax has to offer.
As chairman of the Board of Supervisors, I am elected at-large by all registered voters. My office is here to serve you. If you have any questions or concerns, please email me at chairman@fairfaxcounty.gov or call me at 703-324-2321. I hope you will sign up to receive my monthly Bulova Byline newsletter that will keep you up-to-date on what is happening and how you can participate in all that Fairfax County has to offer you and your family.
Thanks for making Fairfax County your home.