Fairfax County may be physically separated from Washington, D.C.—the ground-zero of All Things Political—but residents here are a politically-savvy bunch.
We know who Larry Sabato is—a prominent University of Virginia political analyst—and we pay attention to Not Larry Sabato—a Virginia politics blog by Ben Tribbett, a Fairfax County resident and self-described "vicious campaign insultant." We follow our politicians on Twitter and Facebook.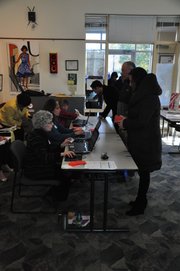 We know that Fairfax County won the "water wars," and we understand why Fairfax County parents get fired up over SLEEP and FAIRGRADE.
We know that "one and done" means our governor cannot succeed himself. And we've debated Virginia's Dillon Rule, the most vilified judicial doctrine in the state, which limits the authority of local governments.
Most importantly, we vote.
Fairfax County residents go to the polls in record numbers compared to their national counterparts. During last year's presidential election, voter turnout was 80.5 percent, significantly more than the lukewarm 53 percent of voters who turned out nationwide. In the past decade, voter turnout is trending higher in Fairfax County, while the reverse is true nationally, according to the Center for the Study of the American Electorate. By late September last year, nearly 90 percent of eligible voters, about 721,000 out of 800,000 people, had already registered to vote.
It shouldn't come as a surprise, then, that U.S. News ranked Fairfax County as one of the top 10 Cities for Political Junkies in a 2010 study, calling the county a place "where those obsessed with political affairs live."
Fairfax County has become much more competitive in recent years, turning reliably red and blue districts into 50 shades of purple, and putting the state into play in national elections.
In 2012, pollsters predicted that Obama's 2008 domination of Northern Virginia was a fluke. Instead, Northern Virginia (NoVa) handed Obama a historic victory with more than 60 percent of the vote, compared with 52.7 percent in "the Rest of Virginia" (RoVa).
Fairfax County residents are also more educated and well off than the country as whole—key factors that play into political participation. Prosperous, tight-knit communities are natural breeding grounds for political activity.
In 2013, Fairfax County residents are ready to cast their ballots for critical statewide offices, including the triumvirate of governor, lieutenant governor and attorney general. And while our state senators get to sit this race out, the Virginia's House of Delegates race is shaping up to be the most competitive in a decade.
According to an official candidate list released last month by the Virginia State Board of Elections, 57 House seats will be contested this November—marking only the second time in the last decade where at least half of the 100 House seats will have more than one name on the ballot.
If you're a newcomer—and you want to be an insider—start paying attention to politics.