On Nov. 26, members of the Dominion Valley Garden Club didn't just gather at the Fairfax Station Railroad Museum for a history lesson; they wanted to spruce it up – quite literally.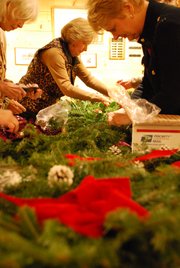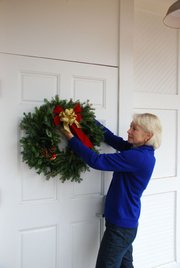 For the past eight years, the women's group of nearly 50 active members has helped decorate the exterior of the museum with fresh green wreaths. Their work is usually complemented with interior halls-decking by the Clifton Community Women's Club.
"It's nice to be here -- it gives us a sense of association," said current president and Fairfax Station resident Claire Rolince. "We're part of a community, we're attached."
The work by the DVGC is facilitated by Angela Ganey, a museum docent and club member herself. The 38-year-old club holds meetings in the museum that was once a depot for the Orange & Alexandria railroad during the Civil War era.
In addition to the holiday decorating, the DVGC was responsible for planning and installing a special "By-Way" garden in 2007 that beautifies and celebrates the museum's Blue Star Memorial. For that project, members researched period gardens from the 1850s for inspiration and also followed a red, white, and blue theme.
Three years ago, the club members decided their wreath-laying could be more personal. "Let's do a little bit more," said former club president and Fairfax Station resident Cindy Loughran. "Let's get more involved."
The wreaths still come fresh from either Costco or Safeway; but now club members bring cuttings from their own yards to truly personalize the decorations. With additions of holly, cedar, pine cones, boxwood and handmade bows, each newly festooned wreath is fully customized and unique. That way the garden club leaves a bit of itself behind for other visitors to enjoy.
"When people come through and think 'Who does that?'" said Rolince, "it gives us some notoriety, and a significance to the area."
After receiving numerous historic preservation and merit awards for projects such as landscaping the Clifton Presbyterian Church and providing "garden therapy" at Commonwealth Care Center, the group's value to the community is far from forgettable. But freshening up the railroad museum is a memorable way to bring new life to a historic location.