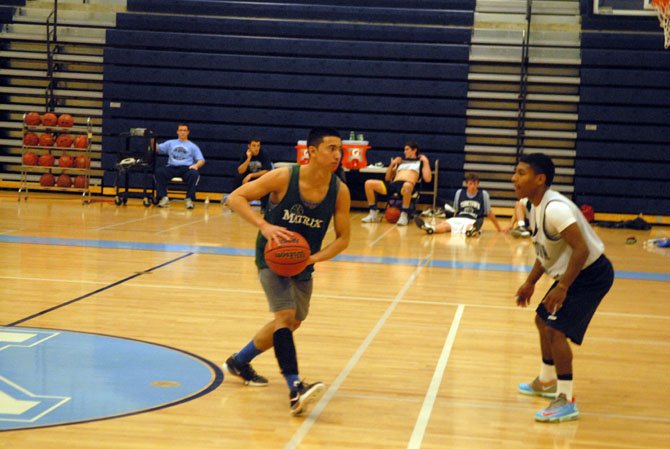 Senior guard Zack Esherick is the Yorktown boys' basketball team's most versatile player and it's only returning double-digit scorer. Senior point guard Jeremiah Leano, a three-year varsity athlete, will be asked to run the show.
Outside of those two, the 2013-14 Patriots are a team of interchangeable parts waiting for athletes to emerge as reliable contributors.
Last season, Yorktown lost to Wakefield in the district tournament semifinals and fell to eventual region champion Woodson in the opening round of the regional tournament. Esherick led Yorktown in scoring at 14 points per game and figures to be this year's top offensive threat, as well. Leano is stepping into the starting point guard role.
"We have a lot of potential," Leano said. "We have a lot of young guys that are willing to work hard and me and Zack are trying to lead them."
While Esherick has the most experience as a scorer, head coach Rich Avila said the team's flex offense will be at its best if several players can score nine or 10 points per game, rather than one player scoring a bunch. Avila said January is around the time his Yorktown teams usually develop cohesiveness in the flex offense, so how well the team is playing as it enters its holiday tournament could be a telling sign. The Patriots will compete in the Falls Church holiday tournament Dec. 27, 28 and 30.
"They've both got to make us better," Avila said of Esherick and Leano. "… [Esherick is] really our most versatile player. … Leano's got to stay out of foul trouble. He's got to run the show out there."
Along with Esherick and Leano, juniors Edmund Pendleton and John Cohen are likely starters. Seniors Will Roebuck and Tom Shean, and sophomore Conor Shears could see significant playing time.Avila said Roebuck, the Yorktown football team's varsity quarterback the last two seasons, could play a pivotal role for the Patriots. He played basketball as a sophomore but did not play last season.
"I think he's a guy that's going to add a lot because of his versatility," Avila said. "… He can be the glue for us in both groups."
Yorktown opened its season with a victory against Lee on Tuesday. The Patriots will face Montrose Christian at 2 p.m. on Saturday at Hayfield Secondary School before hosting Oakton on Tuesday, Dec. 10.
The Patriots became a member of Conference 6 after the VHSL's six-class realignment. Yorktown, Washington-Lee and Hayfield left the former National District and joined Fairfax, Langley, Madison, McLean and South Lakes of the former Liberty District to form a new conference. Esherick said the Patriots are ready for the new competition.
"Our [district] last year was pretty tough, too," Esherick said. "Edison was in our [district] last year and they're going to be pretty good this year. We've seen those teams in summer league and spring league so I think we know what we're going to face."