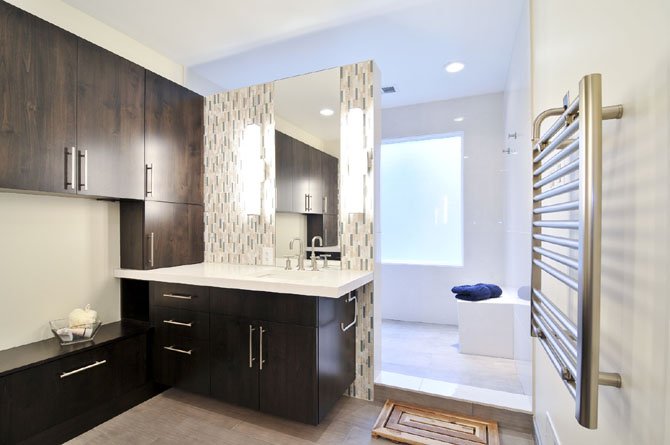 Bedrooms are no longer just for sleeping, at least according to some local designers. They're for relaxing and watching television, but they're also for reading and for eating a lazy weekend breakfast. In fact, some modern bedrooms are probably larger than their owners' first apartments. Three local tastemakers unveil master bedrooms that are so opulent and amenity-filled that it's surprising their owners ever want to leave.
Lavish textiles and luxury characterize a bedroom in Old Town Alexandra that was designed by Sydnye Pettengill of Sydnye Pettengill ASID Interior Design, Inc. in Alexandria. "The owner enjoys luxury and finer things," said Pettengill. "She wants to surround herself with that luxury in her home and private spaces. When I think of this bedroom, I think of Marie Antoinette and traditional French style."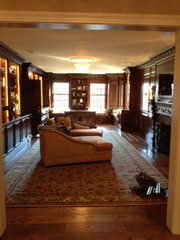 Pettengill created an opulent but cozy bedroom with a custom-made headboard featuring an iron panel, custom-painted to coordinate with the pale green and rich gold hues in the bedroom.
"There is an abundance of custom-designed pillows and a cozy reading space," said Pettengill. "We did a custom shelf in the alcove behind the headboard that provides additional storage for books and tea. A chair is on the other side of the room and a beautiful piece of art."
The room is decorated with luxurious fabrics and trims. "The pillows are silks," said Pettengill. "We have sheer drapery that filters soft light, creating a romantic hideaway."
Visitors to one Potomac home take an elevator to the bedroom suite and emerge in its foyer. "You then walk into a set of double doors that is the beginning of their master suite," said Carole Lindenberg of Potomac Designs. "This bedroom was my inspiration and I called in Natelli Homes to build it."
The suite comes complete with a kitchen that holds a sitting area and breakfast table that allows for a leisurely morning of newspapers and brunch. "The suite also includes a library with a replica of President Lincoln's desk," said Lindenberg.
The library leads to the bedroom, which has a Louis VX-style fireplace and a sitting area with two Bergere chairs with matching ottomans, which are accented with French-inspired drum tables. Over the fireplace sits a flat screen television. "Years ago we used to put a mirror above them. Now we put TVs above them," said Lindenberg.
"There is a window wall with three dormer windows," she continued. "And there is an entrance on either side of the fireplace."
The expansive bathroom has two showers and a freestanding tub. "There is marble on the floor of the bathroom and matching marble on the walls," said Lindenberg. "The bedrooms are carpeted, the library has hardwood flooring with rugs, as does the foyer."
A master suite in a Great Falls home was reconfigured recently to include a bathroom with his and her vanities, a large walk-in shower and an enlarged walk-in closet.
"People want more space for their clothing, shoes [and] jewelry, where their beds are typically only display pieces during the day and then used for sleeping at night," said Beth Walters, the director of communications at Sun Design, Inc., which has offices in McLean and Burke.
Walters says the bathroom cabinetry is made from alder wood in a Blackstone finish, the counter tops are Caeserstone in a Yukon Blanco finish and the floor is Timber Glen Contemporary tiling in a Thatch finish, while the walls are Time Levigato Rettificato porcelain tiling in white with river glass and stone mosaic tile accents.