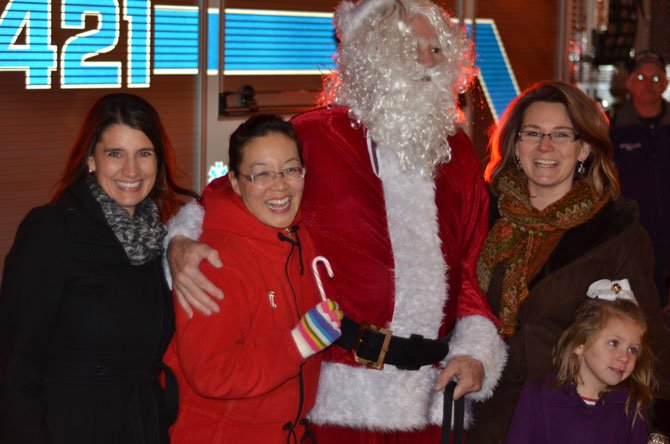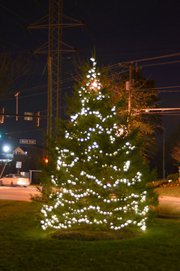 Despite cold weather, scores of people showed up to hear the singing of Christmas carols at the Town Square in downtown Herndon. Eileen Curtis, president of the Dulles Regional Chamber of Commerce, greeted everyone on Saturday evening, Dec. 7. The Herndon High School Madrigals, accompanied by the Herndon Brass Quintet, led several Christmas classics. "We have been practicing for this event since October," said Herndon High senior Evie Powell.
Herndon High School Choral Director Dana Van Slyke helped conduct the show. Van Slyke has served as choral director at Herndon High School since 1995. The event was videotaped by volunteers with Herndon Community Television HCTV, the non-profit, cable access PEG station based in Herndon. The Herndon High Madrigals have a heavy schedule of extracurricular performances during the December holiday season. A Winter Choir Concert at the Herndon High School auditorium is scheduled for Monday, Dec. 16 at 7:30 p.m.
A range of songs, including "Jingle Bells" and "Hark the Harold Angel Sing," were sung that evening. "It is really enjoyable to hear Christmas carols in Herndon," said Andrew Graham, a resident of Herndon who was accompanying his friend Beth Meyer, owner of Green Lizard Cycling. Also attending the event was Herndon Mayor Lisa Merkel along with Herndon Town Council members Grace H. Wolf and Melissa Jonas. "I would say the tree lighting is a fantastic community event. It was great to see so many families out celebrating the season together," said Jonas.
After the tree was lit, there was sudden clamor of sirens coming from a fire engine. Spectators were relieved to see it was Santa Claus making a surprise visit to give candies to children in the crowd. Another upcoming holiday themed event in Herndon is a toy train display at the Herndon Municipal Center on Dec. 14, 10 a.m. – 5 p.m. and Dec. 15, 11 a.m. – 4 p.m. This event is free and open to the public.
To learn more about the Dulles Regional Chamber of Commerce, visit www.dullesregionalchamber.org.