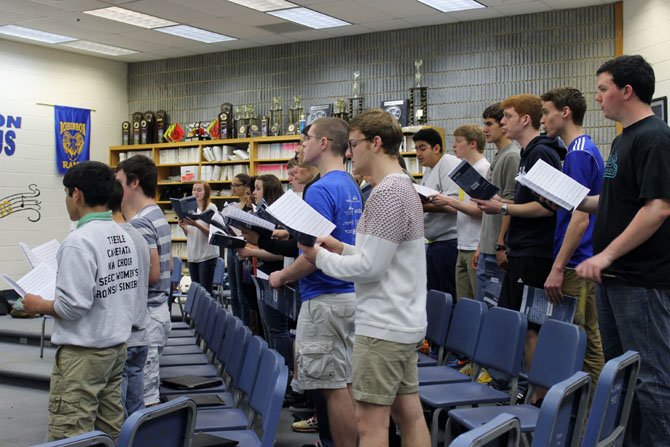 After a Skype session with composer Sydney Guillaume, members of Robinson Secondary School's choral group Robinson Singers were ecstatic.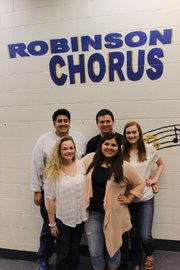 "It was just so exciting because he knows exactly what he wants it to sound like," said junior Molly Wise. "It was so cool to have the composer teach us and to take the time to help us."
Guillaume is the composer of "Twa Tanbou," one of the pieces Robinson Singers will be performing at the World Choir Games in Latvia this summer.
Michael Horanski, the director of High School Choral Activities at Robinson, said it was an amazing session and great learning experience.
"On the surface, you hope that the composer is pleased with the work you have done with their composition to make it true to their musical ideas. It was fascinating to hear specific feedback directly from the composer of what he wants the piece to sound like," he said.
Robinson Singer members say the song, which is an upbeat piece written in Creole, was difficult to learn and took a lot of outside practice. It's 26 pages long and is different from anything they've ever done before. But when they arrive in Latvia this summer for the World Choir Games, all of the hard work will be worth it.
Robinson Singers and Select Women's Ensemble, another choir at the school, will join 25 other groups from across the United States in Latvia. The choirs from Robinson are the only ones in Virginia who will be participating in the games.
More than 400 choirs from across the globe will be at the World Choir Games, something that is exciting for Robinson Singers.
"I think it'll be great to hear choirs from all over," said junior Nicky Solares.
During the end of the first week at the closing ceremony, the students will join 7,000 other people from around the world in a performance that will be broadcast on Latvian television.
"I can't think of a better way to end the trip," Horanski said.
Horanski is looking forward to his students being exposed to choral music from around the globe.
"Music is something that truly unites people regardless of language, politics, economic status or ethnicity and they will have the opportunity to experience this first hand," he said.
The Robinson Choral Department has been planning the trip for at least a year. The most challenging part, Horanski says, is planning and finances.
"I am really fortunate to have enthusiastic students and supportive parents in our program. We are continuing to work on raising funds so I can help the students as much as possible with expenses," Horanski said.
Anyone interested in helping can visit www.robinsonsings.org. The World Choir Games are July 9-19 in Riga, Latvia.