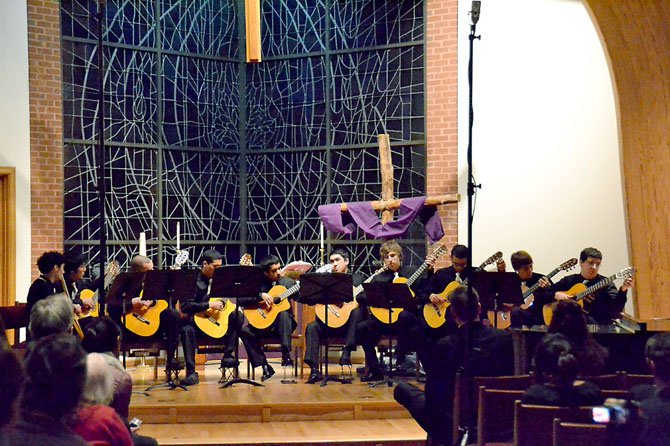 For Robinson senior and trumpet player Matt McMahon, just pulling off Saturday's Robinson Gives Back concert will be a success in and of itself. The president of the secondary school's 90-member Tri-M music honor society assumed most of the responsibility for organizing the annual event this year when the faculty sponsor and choral director Michael Horanski took paternity leave.
But for McMahon, the difficult work of lining up eight different performing ensembles from across the school's diverse musical disciplines—guitar, band, orchestra and chorus—is well worth the end result: bringing good, live music to the community and donating proceeds to this year's recipient, the Wounded Warrior Project. "I do want to earn a lot of money for this charity, because it really means a lot," said McMahon.
The senior is intimately familiar with the Wounded Warrior organization, which offers medical assistance and transitional support to injured soldiers. McMahon's father Paul served 27 years in the Navy Corps of Engineers and his cousin was recently discharged from the Marine Corps after several tours. Last year, Robinson Gives Back raised donations upwards of $1,500.
The mixed program includes some familiar works by Mozart and Tchaikovsky, as well as pieces from composers including Johann Pezel and Eric Whitacre. Offering an ensemble for seemingly every musical taste, the program features a cello quartet, clarinet choir, women's choir, string quartet, brass quintet, guitar ensemble and Robinson Singers mixed choir.
"It's going to be a night of great music, great camaraderie as a music department," said McMahon. "And you get to help our US combat veterans, who deserve our respect and our love, and our help however we can."
"Robinson Gives Back" takes place Saturday, Feb. 23, at 7 p.m. at the Lord of Life Lutheran Church, 5114 Twinbrook Road, Fairfax. Admission is free, but donations are encouraged as all proceeds go directly to the Wounded Warrior Project.