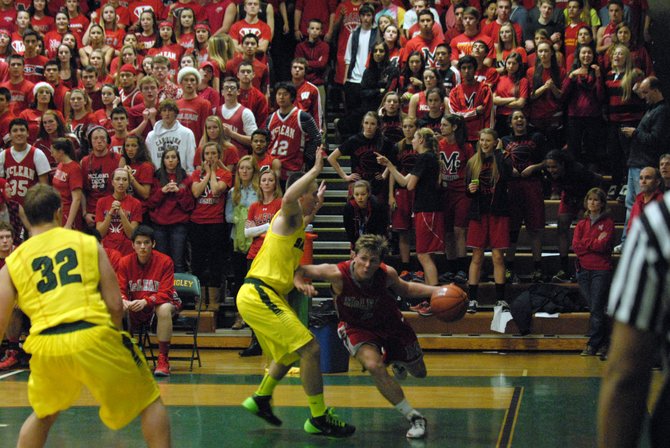 McLean senior Joey Sullivan struggled to focus during a math quiz at school on Friday. Later that night, Sullivan, a captain on the school's boys' basketball team, suffered cramps in each of his calves after crashing into a wall behind the baseline.
At the end of the night, however, Sullivan and the Highlanders were able to celebrate a hard-fought victory on their rival's home court.
"It's all worth it," Sullivan said. "Definitely."
Sullivan scored a game-high 17 points, including a bucket that gave McLean a two-possession lead in overtime, and the Highlanders defeated Langley 45-36 at Langley High School.
The teams ended regulation tied at 32. After a Patrick Dolan free throw gave McLean a one-point lead with 2:30 left in overtime, Jack Ferguson extended the lead to three with a jumper before Sullivan's transition bucket increased the lead to five. Langley would get no closer the rest of the way.
"I don't think we should have school when we play Langley games," Sullivan said. "It was hard to focus today. I had to take a math quiz and it was hard to do that. Going into the game, all you do is just shake all day, at least for me."
Sullivan scored 10 of his 17 points in the second half and overtime.
"Joe's our leader from Day One," first-year McLean head coach Mike O'Brien said. "Joe's the heart of the team. He wears his heart on his sleeve, as you can see. He's a very emotional kid. Sometimes he can be a little too emotional, but I'll take that kind of kid 10 out of 10 times and I'll take a team full of them. He just plays with everything he has."
Ferguson finished with 13 points for the Highlanders.
"You've got to give them all the credit. Their kids competed extremely hard. Down the stretch when they needed a rebound or a loose ball, they had it and I think that was the difference in the game."

--- Langley boys' basketball coach Scott Newman
McLean trailed 16-10 at halftime. A Sullivan bucket gave the Highlanders their first lead of the game with 30 seconds left in the third quarter, but Langley regained the lead when freshman guard Aaron Kim knocked down a 3-pointer in the closing seconds of the quarter.
Langley guard Christian Gaibler drilled his third 3-pointer of the game with 2:02 left in the fourth quarter, giving the Saxons a 32-28 lead. After a bucket by Sullivan and two McLean free throws tied the score at 32, Langley had a chance to win, but senior guard Ross Callaghan missed a jumper in the closing seconds of regulation.
"Ten points in the first half, that's hard to do in a varsity game," O'Brien said of McLean's offensive struggles. "Really, [with our performance in] the whole second half, I just thought we really carried that momentum from the second half into that overtime …"
McLean improved to 2-2 under O'Brien, who coached the school's girls' basketball team last season.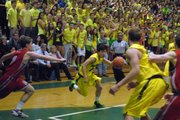 "[This win] definitely is a momentum booster," O'Brien said. "This is a big game for the kids. No matter who wins this, whichever team, takes this with them. You can see that student body gets into it. It's a great atmosphere for high school kids to play in. It's kind of what you remember when you go off and you think back to your high school career. This is the kind of game they'll remember."
Langley fell to 0-4 under first-year head coach Scott Newman, who was an assistant with the program the previous four seasons.
"[McLean] made us uncomfortable. They played extremely hard," Newman said. "At the end of the day, we had the ball in our best player's hands, shooting a 15-foot pull-up, which is usually like a lay-up for him, with time expiring, so I'm disappointed with the outcome; but I'm happy with the way our guys played. They really competed, they were tough and now we owe [the Highlanders] one."
Kim led the Saxons with 12 points, including seven in the first half.
"I thought he played great," Newman said. "He really didn't back away from the moment. It's hard to make shots and make plays in that environment. There are so many eyes on you, there's so much pressure, and especially for a freshman, to step up and take and make the shots that he made for us tonight was huge."
Callaghan and Gaibler each scored nine points for Langley.
McLean will host West Springfield at 7:30 p.m. on Monday, Dec. 16. Langley will host Fairfax at 7:30 p.m. on Tuesday, Dec. 17.
"You've got to give them all the credit," Newman said. "Their kids competed extremely hard. Down the stretch when they needed a rebound or a loose ball, they had it and I think that was the difference in the game."