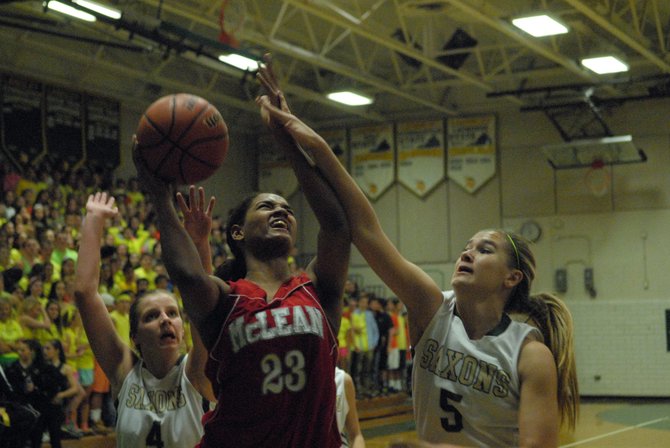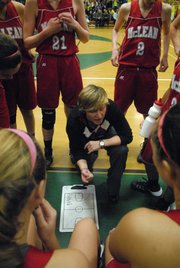 McLean senior Maia Lee stood outside the Langley High School gym on Friday night and discussed the experience of facing the rival Saxons.
"It's really fun," she said. "I live for these Langley games. When you beat them, it's like you made the whole week."
Playing in front of each school's loud and spirited student sections, a strong defensive effort by the Highlanders assured Lee's week was an enjoyable one.
The McLean girls' basketball team did not allow Langley to reach double digits on the scoreboard until more than two minutes had elapsed in the third quarter and the Highlanders cruised to a 46-27 victory on their rival's home floor. The win improved McLean's record to 4-0.
After falling behind 6-2 during the game's first two minutes, McLean embarked on a 35-3 run lasting into the third quarter. The Highlanders led by as many as 28 points, when a bucket by Lee gave McLean a 37-9 advantage.
Early in the second half, McLean fans chanted "sin-gle dig-its," mocking the Saxons for their low point total. Langley junior Lauren Meyer's free throw with 5:35 left in the third quarter got the Saxons to 10 points.
McLean finished with 10 steals.
"Anytime you play in this environment, it's tough to manage the emotion side of it and the basketball side of it," first-year McLean head coach Jen Sobota said. "Once we kind of had a few turnovers and then we settled down a little bit, we got into our flow and played the game we wanted to play."
Lee, a 6-foot-3 forward who signed with Old Dominion University, finished with 12 points and 11 rebounds. She scored all six of McLean's third-quarter points while showing her athleticism and rebounding skills.
"It's really fun. I live for these Langley games. When you beat them, it's like you made the whole week."

--- McLean senior Maia Lee
"She has the ability to take over a game whenever she wants to and I think the girls look to her for that," Sobota said. "It's nice to have somebody that is able to do that."
Senior guard Cami Prock also scored 12 points for McLean, all of which came in the first half.
"From the tip to the last buzzer, she's just a fireball," Sobota said. "She never gives up, she's running around [and] leaves everything out on the court."
McLean senior Nikki Slade finished with seven points and eight rebounds.
Langley sophomore Paige Galiani scored with 6:10 left in the first quarter, giving the Saxons a 6-2 lead. McLean responded by scoring the final 14 points of the opening quarter, including 3-pointers by Christy Warren and Jess Monroe.
After a Monroe jumper extended McLean's run to 16-0 and gave the Highlanders an 18-6 lead early in the second quarter, Galiani scored and was fouled, giving the Saxons their first field goal in 7 minutes, 31 seconds. Galiani converted the three-point play, pulling Langley within nine, but McLean answered by scoring the final 15 points of the first half, including a pair of 3-pointers by Mel Becher, and took a 33-9 lead into halftime.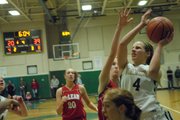 Galiani's second-quarter bucket would be Langley's only field goal for a span of more than 17 minutes. She would score again with 4:30 remaining in the third quarter, cutting the McLean lead to 39-14.
Galiani led Langley with 11 points. Meyer finished with nine points.
Sobota was an assistant for the Highlanders last season under head coach Mike O'Brien, who is now the head coach of the McLean boys' team. The Highlanders reached the district championship game, where they lost to Madison, 48-46. This year, the Highlanders have their sights set on a conference title.
"It's been pretty smooth," Sobota said of her transition to head coach. "Being with them last year and pretty much having the core group of girls back … it's been a really smooth transition."
McLean will travel to face Stone Bridge at 7:30 p.m. on Tuesday, Dec. 17. Langley will face Centreville at 7 p.m. on Monday, Dec. 16 at South Lakes High School.