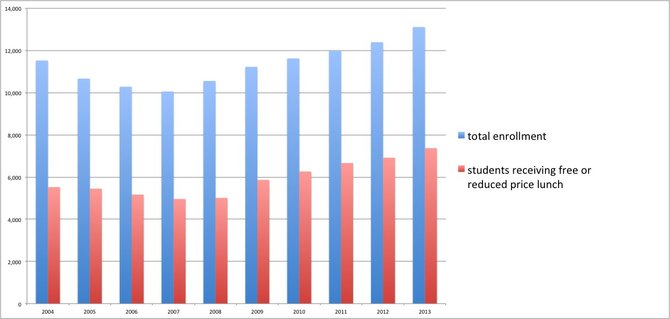 Free or Reduced Price Lunch Eligibility
Alexandria City: 56 percent
Manassas Park City: 55 percent
Manassas City: 51 percent
Prince William County: 37 percent
Montgomery County: 32 percent
Arlington County: 31 percent
Fairfax County: 26 percent
Loudoun County: 15 percent
Falls Church: 7 percent
In the last decade, the percentage of Alexandria students who live in poverty has grown from 50 percent to 56 percent. That's the largest percentage of students who qualify for free or reduced price lunch in the region, according to a recent analysis by the Washington Area Boards of Education. Leaders in education say Alexandria's sharp rise in classroom poverty is part of a national trend, driving by the economic downturn.
"School districts were delayed in their entrance to feeling the effects of the recession because of the delayed nature of revenues playing out in school districts," said Noelle Ellerson, associated executive director for policy and advocacy at the American Association of School Administrators. "So they're also a little bit late emerging from the pressures of the recession."
Last year, the Alexandria School Board directed the central administration to increase representation among under-represented groups in the city's talented and gifted program. They met their goals to reduce the disproportionality among blacks and Hispanics, but barely made a dent in the share of talented and gifted students who qualify for free or reduced-price lunch. That's even after doubling the number of elementary school students who qualify.
"It's not representative of our demographics across the division," said GwenCarol Holmes, chief academic officer at Alexandria City Public Schools. "TAG-identified students tend to be higher income and white, but we want it to be reflective of our division's demographics."
THE CHALLENGE OF EDUCATING students in poverty is vexing for school officials, who are struggling with ways to respond to the demographic trend. Some elected officials say the school system has no control over economic forces that shape poverty in America. And while school officials have a duty to educate the students who live here, they are powerless to change the situation.
"It's a social problem outside of the school system," said School Board member Pat Hennig. "This is something that is a national problem."
Many school leaders say the best way to respond is to provide a safety net that's much broader than government services. That includes everything from expanded playgroups to students who are not already enrolled in preschool to creating a culture of parents reading to children at home. Some of those can be provided by nonprofit organizations, but other strategies are beyond the reach of government.
"Frankly, the whole city needs to rally around support for the kids as far as their academic achievement goes," said Sheryl Gorsuch, former School Board chairwoman. "The quality of life they live at home is the biggest predictor of achievement, and whatever we could do as a city is going to help."
ONE WAY SCHOOL OFFICIALS are trying to handle the problem is reaching out to schools that have a high percentage of students who live in poverty with the Young Scholars program, which will be implemented this summer for the first time. Targeted schools include Patrick Henry Elementary School and James K. Polk Elementary School, two schools with some of the highest rates of students who quality for free and reduced price lunch. The idea is that teachers would be able to nurture youths to recognize high-order thinking and problems solving.
"The teachers will look for students problem solving in unique ways or being creative in ways that other kids are not," said Holmes. "Instead of being remedial reading or remedial math, it's more of an exploration type of program."
For Alexandria, it's a bigger problem than any other jurisdiction in the region. But some other localities have similar demographics. Manassas Park City has 55 percent of students who live in poverty, and Manassas City has 51 percent. Every other jurisdiction has less than half of its student enrollment living in poverty. Some jurisdictions, such as Falls Church, have very few. That means the city's efforts to open up the talented and gifted program will have increased significance in the coming year.
"This really calls into question what kind of selection criteria we are using," said School Board member Bill Campbell. "Is it as objective as we need it to be or is it based on who you know?"