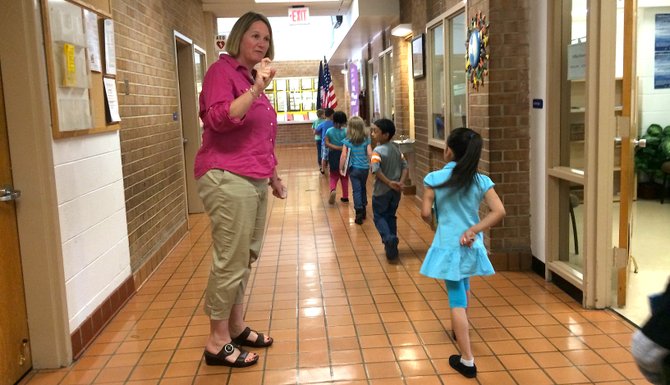 When Carla Castro-Claure was approaching the age when she would soon attend Kindergarten, her mother became increasingly concerned about Hybla Valley Elementary School. She wasn't sure it was safe for her daughter, and stories were circulating through the neighborhood about elementary school students being suspended for having drugs. Then, one day, she learned about a robbery that happened at the 7-Eleven on the corner. The robbers hid at the school to evade police.
"It was known to be a bad elementary school," said Castro-Claure, who is now 18 years old. "It has the lowest test scores, and there was a lot of crime in the neighborhood."
Her mother decided that Hybla Valley was not safe enough for her, choosing another school several miles away. Since that time, she said, the school has improved. It has new security measures, and the test scores have improved. Her sister now attends the school, and her mother heads the parent-teacher association. Nevertheless, the school struggles with poverty. According to a statewide database of poverty in the classroom, Hybla Valley has the highest rates of students who quality for free or reduced price lunch in Northern Virginia.
"We have a sense of urgency at all times at this school," said Hybla Valley Principal Lauren Sheehy. "At another school, we may not need as much skills and as much energy to get the job done. But here we need 110 percent at all times, and that's what drives us every day."
POVERTY SPREADS across the classrooms of Northern Virginia by ZIP code, with poor neighborhoods logging the highest percentage of students who quality for free or reduced price lunch. Among all schools in Alexandria, Arlington and Fairfax County, Hybla Valley has the highest. Almost 90 percent of students qualify, making it one of the highest poverty schools in the region. And even though Arlington County has a reputation of being a wealthy enclave, Carlin Springs Elementary comes in a close second. More than 86 percent of its students quality for free or reduced price lunch.
"Arlington, like most suburbs, has very segregated schools although nobody wants to talk about it," said Fred Millar, whose children attended Arlington Public Schools. "When you draw school boundaries to effectively insulate the wealthy students, that's class warfare."
Although the 10 highest-poverty schools in Northern Virginia are spread out across the region, one area has a cluster of high-poverty schools. Southeast Fairfax County has three of the highest poverty schools hugging the Route 1 corridor. Three of the elementary schools here make the top 10 list of high poverty schools: Hybla Valley, Mount Vernon Woods Elementary school and Bucknell Elementary School. Critics say these neighborhoods fall through the cracks because they don't have the kind of money and clout enjoyed by areas with wealth and power.
"In a lot of ways, government is more responsive to those who have than to those at the bottom," said Del. Scott Surovell (D-44). "Why does every planetarium in the county work except the one at Carl Sandburg? Why do we still have a huge Head Start waiting list? Why do we still have a big childcare waiting list?"
TEST SCORES SHOW students at high-poverty schools often struggle to meet state and federal standards. One of the highest poverty schools in the region is Jefferson-Houston in the City of Alexandria, where test scores have been so low for so long that state leaders are poised to orchestrate a takeover. When classes begin this fall, the newly created Opportunity Educational Institution is expected to seize control of the school, which serves Kindergarten through eighth grade. The institution, which was created by former Republican Gov. Bob McDonnell, is targeting six schools in Virginia. Jefferson-Houston is the only school in Northern Virginia, although city leaders in Alexandria are hoping that a lack of organization and funding will derail the takeover, although frustrated parents say Alexandria leaders have demonstrated they are unable to transform the school.
"I think it's a good idea for new people to step in and take over," said Bea Porter, whose grandson attends the school. "The local school system has failed Jefferson-Houston for too long."
According to salary data received in a Freedom of Information request, teachers at high poverty schools often receive lower pay than their counterparts at other schools. In many cases, that's because teachers at high-poverty schools are fresh out of school and looking to enter the profession. Many transfer to wealthier neighborhoods, where teaching students can pose fewer of the challenges related to poverty. The average pay for a Kindergarten teacher in Fairfax County, for example, is $61,000. The highest Kindergarden teacher salary is $99,000 at Fort Belvoir, and the lowest is $45,000 at London Towne Elementary. The average Kindergarten teacher salary is higher than the average Kindergarten teacher salary at Hybla Valley, Lynbook, Mount Vernon Woods, Buckness and Graham Road.
"We have this mythology of equality," said Jon Liss, founder of Tenants and Workers United. "But the reality is that there has been a resegregation because of the overlap of race and class."
BEHIND HYLBA VALLEY is a series of trailers — sometimes called portables — where students gather in temporary structures. Schools with the most number of trailers tend to be at high poverty schools, although school officials also use them at some schools with low rates of poverty such as Haycock Elementary School and Clermont Elementary School. Critics say the village of trailers behind Hybla Valley is an indication that Fairfax County Schools is not willing to invest the kind of resources here that might go to a school where parents would lobby School Board members for a new wing of classrooms.
"The value of education is not equal," said Alma Lopez, parent of four children at Hybla Valley Elementary School. "If you compare students in McLean to students in Hybla Valley, it would be obvious that the level of education is better in McLean."
The principal says that the school has always needed trailers, even after a two-story addition gave the school 17 more classrooms. Before she came to Hybla Valley, Sheehy was assistant principal at Lynbrook Elementary School, another high poverty school. Like many of the teachers and staff at Hybla Valley, Sheehy says that she feels called to work with students in need.
"It really is a calling. It's a real passion, and I feel really proud to be at the school and proud to support the students here," said Sheehy. "Our teachers embrace it, and they acknowledge that there are more challenges here than at other schools."