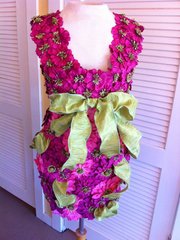 Combining antiqued sheets of music and type-faced book pages with vibrantly hued paper, artist Brook Mowrey creates three-dimensional works that range from crowns and ball gowns to dolls and floral dresses. Her work shows that the use of paper can be varied and diverse.
"I make dresses that are displayed … in stores," said Mowrey. "The crowns are made to celebrate birthdays, graduations and wedding showers. A woman purchased one recently for her daughter's first communion. Another woman just told me that she purchased one of my crowns for a trip to Paris to celebrate her birthday."
In fact, paper art like Mowrey's is becoming increasingly popular, even art you can create at home. "With the growth of paper stores and paper crafting, more people have fancy paper at home to make fancy art," said Kathryn Horn Coneway, director of Art at the Center in Mount Vernon. "It is a good entryway into art. Collage with paper in particular is freeing because there is not as much of a right answer, and paper is very readily available."
Mowrey got her start in elementary school when her teachers discovered her knack for manipulating paper.
"My teachers thought I was good at paper crafts so I was often sitting in the back of the classroom cutting out paper figures for their bulletin boards," she said.
Mowrey went on to receive a bachelor's of fine arts in graphic design, eventually relocating to the Del Ray section of Alexandria, where she worked as a graphic designer. It wasn't until her now 14-year-old daughter, Sage Nelson, was born that she rekindled her passion for paper, however. "I would do little paper projects at home to delight my daughter."
Sage remembers those times: "I used to have Valentine's Day parties with my friends and my mom would help us [with] fun ideas like paper mailboxes."
That parent-child pastime led Mowrey to start her own business, Brook Mowrey Creative Paperworks, where she creates paper fashion, flowers, dolls and vintage-inspired paper crowns.
"Now my mom always runs her art ideas by me and we figure out ideas together for whatever she is working on," said Sage. "I offer ideas and suggestions."
Mowrey, who is from Chadds Ford, Pa., has even received kudos for her artistic talent from a famous American artist.
"I am from the same town as Andrew Wyeth," she said. "Each year there was an art competition in our town, which he judged. One year I won first place."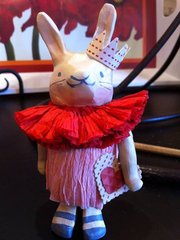 Book art, a subsection of paper art in which traditional tomes are transformed into works of art, is also popular. "We do it through GRACE Art," said Jeanne Loveland, director of education at the Greater Reston Arts Center in Reston, referring to the organization's art in schools program.
Mowrey, for example, recently finished a Marie Antoinette-inspired paper gown using book pages. However, her imagination allows her to transform just about any pulp-derived material.
"I am inspired by antique millinery supplies, all sorts of paper and things that sparkle," she said. Mowrey can be contacted at prettypapercrowns@gmail.com. For more information on paper art classes at Art at the Center in Alexandria, visit Art at the Center.