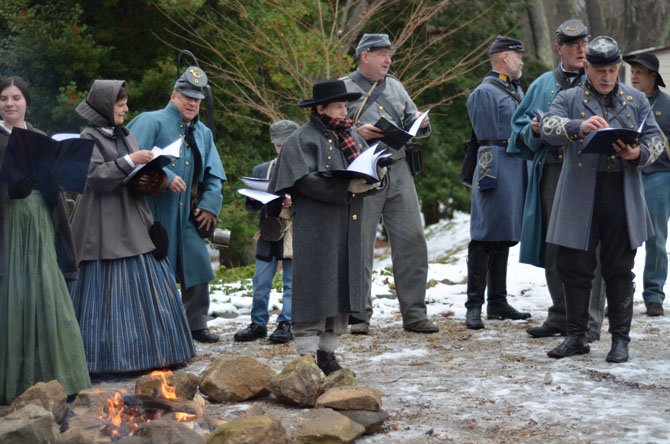 At historic Colvin Run Mill Park Santa Claus made a visit to the miller's office from 3 to 6 p.m. Despite damp, overcast weather on Saturday, spirits stayed bright as visitors came by to see Santa and hear carolers from the Virginia 49th Infantry, participate in crafts, or join in a marshmallow roasting.
Bill Vigna and his wife Debbi drove down to Colvin Run Mill Park with his three daughters from the city of Fairfax. "Coming over here to see Santa has become something of a tradition," said Vigna. Also on display at the mill was a Christmas tree trimmed with Victorian decorations.
"We have a great bunch of volunteers to help us with the crafts," said Pam Gennari, an employee of the Fairfax County Park Authority and resident of Ashburn. More than 40 volunteers and staff were on site to help with the day events, including Colvin Run Mill park's manager. Park volunteer Jim Hogan, a resident of Centerville was also attending the event. "Myself and another volunteer often display simple mechanics of the park to visiting third graders on Fridays," said Hogan.
"We try to put on a wholesome show for the family," said Frank Henry, Manager of Colvin Run Mill Park. "We are quite pleased to be able to do this event again… It is nice to have kids see Santa at a place where you can imagine Santa working." Located near Virginia State Route 7, Colvin Run Mill in Great Falls is the sole surviving operational 19th-century water-powered mill in the Washington, D.C. metropolitan area and has a rustic charm.
"It is good wool weather," said re-enactor Tony Meadows with the Virginia 49th Infantry. "This event is designed to be fun, just a good time," said Meadows. The 49th Virginia Infantry is a family oriented Civil War living history and re-enactment organization based in Northern Virginia. The unit provides opportunities to present authentic impressions of soldier and civilian life during the American Civil War.
Throughout the year, Fairfax County Park Authority sponsors programs for all age groups at Colvin Run Mill, from maple syrup boil-downs to ice cream making and wood-carving. On Saturdays, Dec. 21 and 28 and Sundays, Dec. 22 and 29 there will be a holiday model train display at Colvin Run Mill barn. No reservations required to see this free event, which will last from 11 a.m.-4 p.m. Visitors can watch G-gauge trains wend their way through a miniature western town in the Colvin Run Barn.
To learn more about Colvin Run Mill, visit www.fairfaxcounty.gov/parks/colvinrunmill