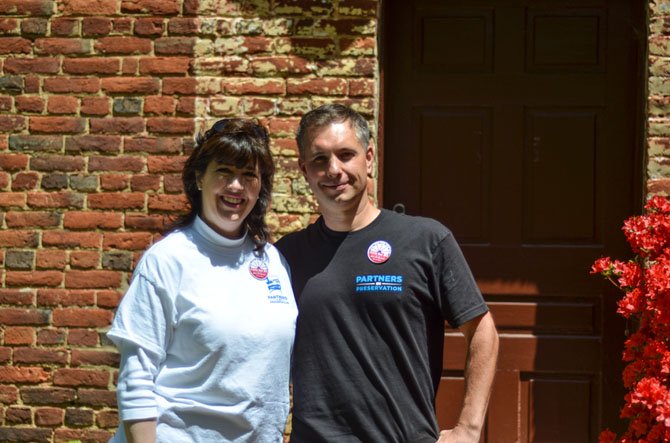 Colvin Run Mill held an open house inviting guests to come see the historic mill in operation Sunday, May 5. Millers grinded grain, and local blacksmith Pat McGuire fired up the forge for a demonstration. A moonshine still was put on display and several arts and crafts tables were set up.
Colvin Run Mill's sister site Herndon Frying Pan Farm Park brought some farm animals by to visit. These livestock were brought in by Frying Pan Park staff Nicole Falceto and members of the local 4-H club.
A factor in this outreach was to gain votes for the competition being held by Partners in Preservation for grant money. Partners in Preservation is a program in which American Express, in partnership with the National Trust for Historic Preservation, awards preservation grants to historic places across the country.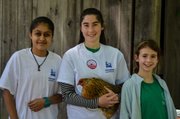 From April 24 through May 10, 2013, the public was asked to help choose which historic places they feel most deserve preservation funding. "On May 10, the site with the most points is granted full funding, for us that would be $100,000," said Colvin Run Mill Park Manager Michael H. Henry.
COLVIN RUN MILL is the sole surviving operational 19th century water-powered mill in the D.C. area. In 1968, when Fairfax County started the restoration, they initially though it would take two years and cost about a quarter of a million dollars. Four years and one million dollars later they cut the opening ribbon in spite of the fact that the top two floors had not been fully restored.
"Since 1972 we have been waiting for the opportunity to restore the top two floors so we can show the whole Evans automated milling system. The Evans system is a unique system, an example of early American ingenuity that spread back to Europe. Restoring [the top two floors] would be an opportunity to share early American technology and ingenuity.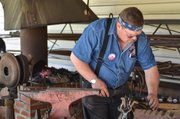 "As soon as the contest is over, in about a week, the committee will get together and they will base the rewards based on our success and hopefully they will scale it according to the size of the site. Being as we are such a small site it would be nice to finish in the top five against the healthy competition."
Colvin Run Mill has been making good progress throughout the competition and has been in fifth place, sometimes fourth. "It is nice to know that efforts are being rewarded," said Henry. "I think a lot of it is exposure and the team we have assembled. It is very humbling to work with such wonderful people the park provides. They are doing everything in their power to make sure we succeed."
Karen Hogan is a Colvin Run park volunteer who has been involved in the outreach for the competition. "Mike called me and asked if we could put a few banners outside of the mill … He told me what the whole competition was about, and I said, 'what you need is a communication plan.' We got a great team of people and what you see today is the fruit of those labors. We have been meeting weekly since the end of March, and we have lots of creative people on the team. It's worked out very well."
Matthew Kaiser, an employee of the Fairfax County Park Authority has, also been on the outreach team. "We had identified topics to share on Facebook and Twitter and we also used Google+," said Kaiser. "We thought ahead of what we wanted to use for content. I just spoke with one woman and she said she visited because she saw what we had on Facebook."
"Regardless of how we do in the contest we can do nothing but win," said Hogan.
TO LEARN MORE about Colvin Run Mill visit their webpage at http://www.fairfaxcounty.gov/parks/colvinrunmill/.