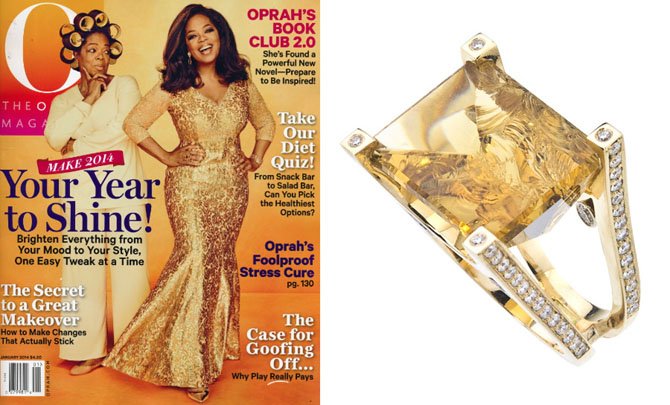 The cover of the January 2014 issue of O, The Oprah Magazine, features a Jorge Adeler one-of-a-kind "Rock Candy" ring.
Winfrey wears a 14kt "Rock Candy" ring with cleaved citrine and diamonds from Jorge Adeler's Spring 2014 collection "Become Timeless."
Adeler is renowned for his bold statement pieces that have graced numerous celebrities on the red carpet. His custom jewelry designs are characterized by his use of spectacular gemstones showcased in one-of-a-kind creations that elevate the unconventional gem into an inspiring piece of jewelry fit for a black tie affair.
Winfrey illustrates this point by wearing this "Rock Candy" ring on the January cover of O, The Oprah Magazine, while dressed in a gold brocade inspired gown designed by Brian Rennie for BASLER.
Adeler's 2014 spring collection features three categories coming from and inspired by Earth, Sea and Sky. The collection presents the innovative artistic vision of Jorge Adeler. "I am overwhelmed that Ms. Winfrey is wearing one of my pieces on such an iconic cover where she proclaims that this year, her 60th birthday, is 'Her Year to Shine'. It is a great honor."
The bold gemstones and designs that characterize Jorge Adeler's jewelry are worn by top-tier celebrities and his pieces regularly appear in national publications like People Magazine, Redbook, Vogue, and InStyle to name a few. His custom designs ensure any woman can display her own distinctive personal style. The Collection is available at www.jorgeadeler.com; 1-877-915-8967
Jorge Adeler is a fine jewelry designer who specializes in one-of-a-kind creations using unique gems, pearls, diamonds all distinctively mounted in platinum, 18kt and 14kt gold since 1975. Celebrities such as Halle Berry, Sandra Bullock, Scarlett Johansson, Katy Perry and Claire Danes have worn Jorge Adeler designs on the red carpets of Hollywood.
Adeler's designs have long been recognized nationally and internationally with numerous awards and accolades, most notably the JCK Jewelers Choice Awards and the Presidents Trophy in the International Pearl Design competition.
You can visit Adeler Jewelers in the Great Falls area at 772 Walker Road, Great Falls.