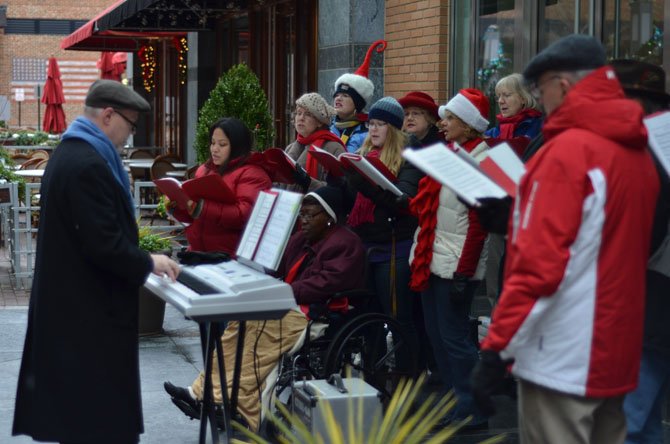 On Saturday, Reston resident Ellen Torzilli joined 24 friends and fellow members of the Reston Chorale to sing at Promenade in Reston Town Center. There were afternoon shows outdoors on both Saturday and Sunday between the Mon Ami Gabi restaurant and Pitango Gelato. Lloyd Kinzer, resident of Reston since 1970 and bass singer with Reston Chorale, was singing with the group on Saturday. "We have been doing Christmas caroling at Reston Town Center for several years," said Kinzer, current president of the Reston Chorale Board of Directors.
"We have members that come from all over the Northern Virginia area. We also rehearse and do much of performances at Reston Community Center," said soprano singer Susan Meeks-Versteeg. The managing director of Reston Chorale for two years, Meeks-Versteeg oversees the Chorale's annual concert performances and coordinates publicity and community outreach for the Chorale. "We also watch for people in the audience who sing along. We have picked up some members of our group that way," said Meeks-Versteeg.
For almost a decade, The Reston Chorale has joined the annual Holiday Tree Lighting at The Reston Town Center. The focal point of this event has been the Chorale, joined by a brass quintet, leading in holiday songs and carols. The Reston Chorale has excited audiences with its musical excellence and versatility for over 40 years.
The Chorale was established to provide Fairfax County with the finest in choral music performance produced by amateur and professional musicians. The mission of The Reston Chorale is to promote community interest and participation in, and enjoyment of, choral music. One of the next major shows by Reston Chorale is schedule for Sunday, March 23, 2014. The March show will premiere a new work by composer Donald McCullough, and commemorate the 50th anniversary of Reston and the 100th birthday of its founder Robert E. Simon, Jr.
Artistic Director David Lang played the keyboard, and members of the Reston Chorale sang the carols including "God Rest Ye Merry Gentlemen" and "I'm Dreaming of A White Christmas." "We just heard them playing, it is a great way to kick off the season," said Leesburg resident Ryan Flynn who stopped by with his wife and daughter to hear the carolers.
To learn more about Reston Chorale, visit www.restonchorale.org.