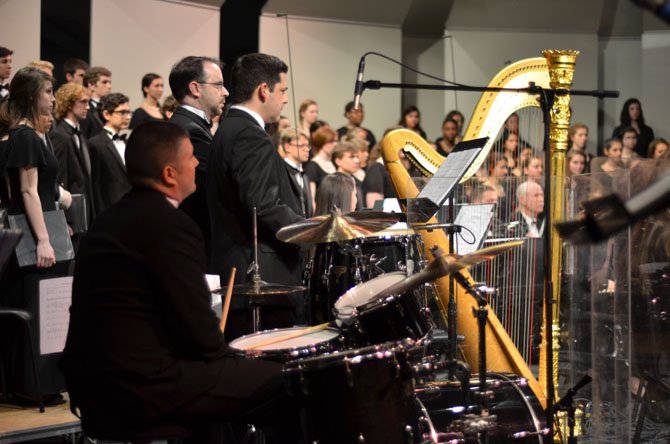 "It is wonderful to be here," said composer Donald McCullough. "It was a really exciting experience because what Bob has created here is really quite astounding." McCullough was at the South Lakes High School stage in Reston. He had been commissioned by the Reston Chorale to create a work that musically expresses what makes Reston a special place. On Sunday, March 23, the audience heard the premiere performance of McCullough's "The Essential Life."
"The Essential Life" included a trumpeter and baritone soloist, and used inspiration from American poets including Walt Whitman, Sara Teasdale, Louis Untermeyer, Robert Frost, and Amy Lowell. In the concert program, it read that the overarching message of "The Essential Life" came from the Sara Teasdale poem, "Barter."
Seventy-five students from South Lakes High participated in this event, all members of the advanced choir groups Bella Voce or the Chamber Singers. "It is a unique opportunity and I am really glad I was involved," said high school junior Jane Oswalt. "It has been an honor to perform along with Amadeus Concert and Reston Chorale," said South Lakes choral director Rita Gigliotti. "The students really enjoyed singing the music. We are so grateful to Mr. Simon and his family for building this wonderful place."
"The original piece was nicely done, very impressive for an event like this," said Stephen Schindler, a resident of Reston since the 1980s. "I came out to Reston when much of this area was a bunch of dirt… It has been a nice community to live in." His wife, Katherine Schindler is a singer with the Reston Chorale.
"It is a very historic moment, it has made us grow as a choir," said David B. Lang, artistic director with Reston Chorale. Throughout the concert several persons took turns at conducting the music, including Lang, Rita Gigliotti, and Casey Cook. Cook, Reston Chorale's associate director for the 2013-2014, led a production of the American Folk Song "Shenandoah." "I have sung it so many times throughout my life, to have this many singers respond in such a clean way, it is fantastic," said Cook. Other songs in the program included "Lullaby" by George Gershwin and "Jerusalem" by C. Hubert H. Parry.
Another person who helped develop the concert event was Ruth Overton, a resident of Reston and participant in Reston Chorale since 1976. "Also attending the concert were U.S. Rep. Gerry Connolly (D-11) and Del. Kenneth R. Plum (D-36). Plum, a resident of Reston, praised composer McCullough's work. "It was a monumental piece that captures the excitement of living here," said Plum.
Reston Chorale has excited audiences for more than 45 years. The Chorale is a mixed-voice chorus that has performed throughout the greater Washington, D.C. area in venues such as Wolf Trap, George Mason University Center for the Performing Arts, and the John F. Kennedy Center.
At this concert, approximately 85 members of the Chorale participated.
After the concert there was a reception at the South Lakes High School cafeteria. "Some of us have said this may have been the best event we have ever done," said Lloyd Kinzer, resident of Reston since 1970 and bass singer with Reston Chorale. "We had to work really hard, but the event was a sellout."
To learn more about Reston Chorale, visit www.restonchorale.org.