In most places, people go to events. In Vienna, occasionally, events go to the people. And the annual Santa Runs, operated by the Vienna Volunteer Fire Department and volunteers, is an event that goes out to the people, the whole Vienna community, for a full week leading up to Christmas. The 2013 Santa Run kicked off on Dec. 15 with drives through side streets off Beulah Road near Meadowlark Gardens.
Every day, an antique 1946 Maxim fire engine, owned by Vienna's fire department, cruises through Vienna-area neighborhoods, siren and holiday music blaring as it travels. Onboard is a jolly Santa, Mrs. Claus and elves that dress up to look like emergency responders. Where children stand, elves jump off the fire truck to hand out candy canes to children and dog biscuits to dogs.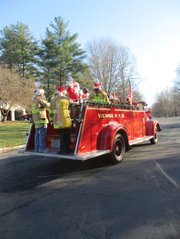 On Sunday's early afternoon run, passing cars honked continuously. Drivers and passengers, from kids to senior citizens, smiled and waved. Between the siren and the holiday music blaring, Santa and his elves announced their impending arrival even before they were visible. VVFD buys 3,000 candy canes and one box of dog biscuits for distribution. The activity is funded through the fire department's fundraisers.
There's something sentimental when older folks – 70s and 80s – come out of their homes to greet Santa. Perhaps, they are recalling their grown children's childhoods or their own. A great number of dogs raised their paws in acknowledgement (the paws were operated by humans but it's the thought that is meaningful). Sometimes, a young child peered out from behind a glass door or window.
"Vienna is definitely unique," said Chief Elf Willie Lorenc, onboard Sunday's run. Lorenc said that it's not uncommon for parents to bring out kids not fully dressed just to see Santa on the fire engine. "It gets behind the fire department. We realize we're part of something special to the town."
New this year is the "Santa tracker," something akin to NORAD's Santa tracker, only Vienna's is specific to VVFD's routings. Click on the map on VVFD's website and you'll know exactly where Santa is during the run.
"The people at VVFD have the biggest hearts in town all year-long and are the ultimate heroes to us, and especially to our son, Bill," said Sara Sonntag.
On weekdays, the Santa Run begins about 5:30 p.m. and runs until 8:30 or 9 p.m. Most kids are probably in-bed by then, Lorenc said.
Santa runs continue until about Dec. 22. Schedule and make-up days for bad weather can be located at www.vvfd.org. Click on the "Santa tracker" when you are on the site. Kids can write to Santa at santa@vvfd.org, and follow him on Twitter at @VVFDSanta.