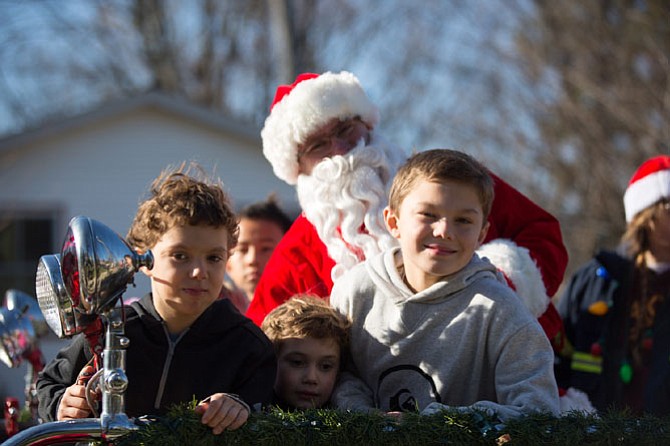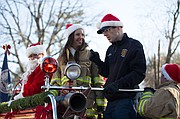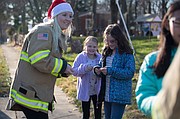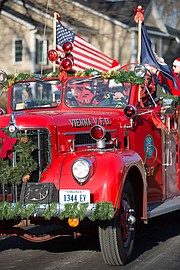 This year in Vienna, Santa's sleigh was a 1946 restored red Maxim firetruck. Courtesy of the Vienna Volunteer Fire Department, Santa rode the streets of Vienna in style Saturday, Dec. 16, blaring a screaming siren and throwing waves, smiles, and candy canes to all he neighborhood children who came running from their houses.
Matt Jones, a member of the board for the Vienna Volunteer Fire Department, and a firefighter, is the driver of the classic red fire-engine this holiday season, although he doesn't take all of the credit for being the only person certified to drive the double shifter.
"We have a simple driving test, and a few people at the station know how to do it properly," said Jones.
The Vienna Volunteer Fire Department purchased the classic engine in 1996. It had been rusting away in a farm field in Virginia when they restored it. It has been in use for the past 20 years in parades, community events, birthdays, and this holiday season as Santa's sleigh.
"Everybody loves it," said Jones. "A lot of fire departments do fire truck Christmas runs, but our antique vehicle makes it more accessible."
The truck, which boasts a classic wooden bed and a newly installed speaker, offers a bumpy ride with loud Christmas music, lights, and decorations. EMTs from the department rode in the back dressed in customary fire-jackets and Christmas hats, ready to jump out and deliver candy canes to children and dog biscuits to neighborhood pets.
"The firetruck is made for kids, and to give Vienna that small town feel," said Jones.
And that is exactly what the Santa mobile accomplished Saturday morning as children swarmed from their houses, some still in pajamas, or without shoes as they ran to see a jolly Santa Claus and for some candy canes from Santa's elves.
"Even if the truck breaks down, Santa stays for some community outreach," said Jones.
This year Santa has a Twitter account courtesy of the Vienna Volunteer Fire Department, a location system that helps interested neighbors find when Santa's sleigh will be visiting their street.
"I love driving this, it's a joy to drive. And I love bringing the Christmas spirit that is so clearly appreciated by the residents of Vienna," said Jones.
Elizabeth Lucca was waiting outside of her house with her husband and three sons as well as other curious and excited neighbors when Santa arrived on the fire truck.
"I like how happy it makes my kids to see Santa and get candy canes," said Lucca with a smile.