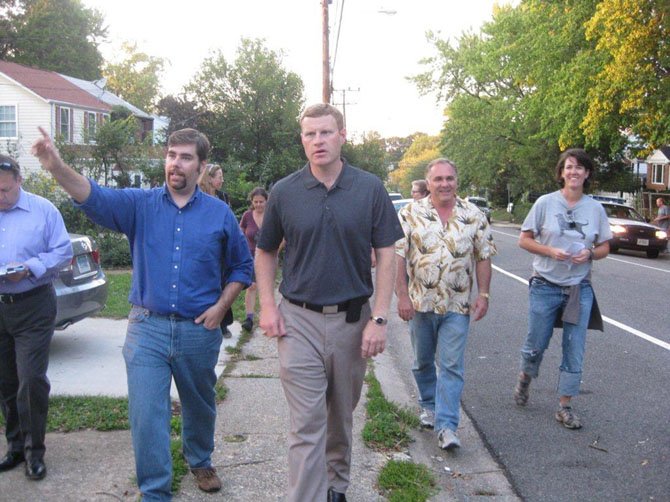 Herrity: Balance the Budget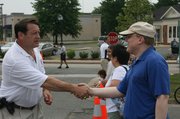 Q: What were some successes of 2013?
A: Transportation updates. The Fairfax County Parkway will have interstate level traffic in the next 10 years, if not already. We need to work on the long-term solution. I was able to get the Board of Supervisors to pass the requested corridor improvement study. We've got the study underway for the Pope's Head Road interchange on the parkway, and those are both really big things. I also asked the Board to take a look at Braddock Road and changing it into a primary road.
End of the illegal signs in the median. This year we approved the agreement with VDOT that allowed us to enforce cleaning up the signs. Both political parties have been good about not putting signs up.
Q: What are some major issues that need to be addressed in 2014?
A: Transportation. We will focus on expanding the express-lane type project in the I-66 corridor. The environmental impact study is done, so that opens us up to the possibility of express-lane type project in the corridor which is what I think we need to do as quickly as we can. Transportation needs to be important. We need to look at moving the parkway forward, getting the Pope's Head interchange done, getting the corridor improvement study done. We need move forward on an express lanes project for 1-66.
50+ Action Plan. The other big thing we are looking for is to launch the revision of our 50+ Plan, to prepare for the age wave that is kind of almost here already. It includes everything from home-share to creative transportation solutions. You've got a lot of elderly who live in single family homes. If you can match these with young professionals that are looking for places to live, it's a win-win in terms of being able to provide additional housing, and at the same time, you are enabling older adults to stay in their home longer. It's kind of a unique, creative concept to solve two problems that we have: people that want to stay in their homes and young professionals. It makes a lot of sense compared to paying too much to get a one bedroom apartment somewhere.
Residential Studio Units (RSU). I have been leading the fight against the RSU's in suburban neighborhoods. One reason is density. When people buy in suburban residential communities, they are buying to get away from density. They also say they are for policemen, firemen, and teachers, but our starting policemen, firemen and teachers can't even qualify for them, because they make too much.
Q: What are some of your priorities for 2014?
A: The budget is the big thing- making sure that we don't balance the budget on the backs of our taxpayers. We've got to address the pension issue. On our commercial tax base, it's making sure we maintain the tax and regulatory environment that keeps us one of the best places in the country to do business.
Q: How do you think Governor-elect Terry McAuliffe will impact the community?
A: I think it remains to be seen. It's too early to tell what kind of governor Terry McAuliffe is going to be. I'm hopeful that we stay pro-business and that he maintains the pro-business stance and we can keep the job and economic growth that we've under Gov. McDonnell, as well as the fiscal responsibility and surplus. If we can keep that moving forward, that would be my hope. He made those promises.
Q: What is one headline you would like to see in 2014?
A: Express-lanes Project Approved for I-66.
McKay: Revitalization in Lee District
Q: What are some things you are looking forward to in 2014?
A: Revitalization. Locally in my district next year we hope to see the Springfield Mall reopen. It's the most important redevelopment story in the county in my mind. It's a huge turn of events to finally get the mall fixed, and I mean fixed, because it was entirely broken before. This is a big deal for Springfield. It sets a positive course for a lot of other things in Springfield that we wanted for a long time to happen. It's a big revitalization story.
Along the same lines, revitalization success in other parts of my district: In the Kingstowne/Franconia area, clearly the construction of the Wegman's and its shopping center is huge. Down on the Route One corridor, there is robust redevelopment activity around the Huntington Metro station that is really helping to transform the Route One corridor.
Transportation. There are also some big transportation stories: Mulligan Road or Jeff Todd Way, which is a new road being built that connects Route One to Telegraph Road. One of the biggest challenges Route One Revitalization has faced for a long time is it's not connected very easily to Franconia/Kingstowne and Springfield area, and this road will be a direct connection between those two. It's a big road project, hopefully will be opening in the first quarter of 2014.
Preschool programs. One thing I hope is big in 2014 is how we address Pre-K learning in the county. It's something I have a passion for because for one thing I have a kindergartener, and I can just see in her class the great delta that exists between kids that have had some structured preschool learning opportunities and kids that didn't. A lot of jurisdictions, even across Virginia, that don't have the resources we have, do have public preschool initiatives in existence. What they have shown study after study is that they are a very wise investment. They pay for themselves tenfold.
Q: What are some challenges you see in the upcoming year?
A: Clearly a challenge last year that is going to continue this year, and I think will be even more challenging this year, is the budget. Obviously, there's a pretty big hole, particularly in the school side of the ledger that we are going to have to figure out what to do about that. They are projecting a pretty large deficit. A lot of the available options that we have, we've taken in the past couple of years. We're used to this, but the down side we're out of easy choices to make and we're left with really what I think are the most difficult choices.
Q: What do you think we can expect from Governor-elect Terry McAuliffe?
A: It's going to be interesting to see what the new administration brings forward as high priorities. I've heard about Pre-K, I've heard about making the best of our transportation bill, I've heard about taking a serious look at funding for mental health and human services, which is a big challenge the county faces, so I'm hopeful that the new administration will bring a partnership with local government that respects we can't do it all without their help. I'm optimistic that we will get support from this administration at the local level to get some of our initiatives done.
Q: What is a headline you would like to see in 2014?
A: "Springfield Mall Reopens."
"Economy has robust recovery."