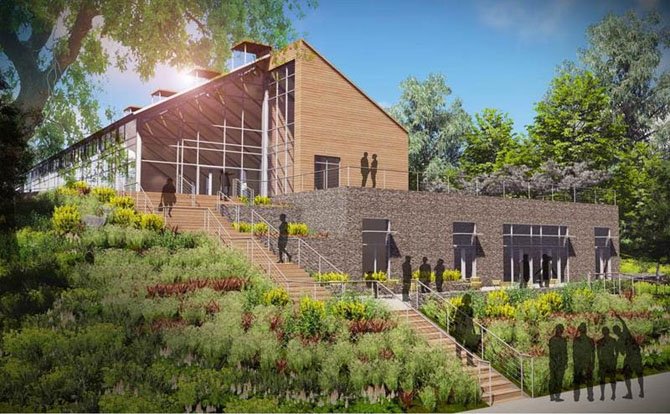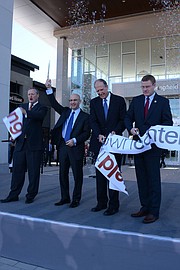 Springfield Town Center
A crowd of eager shoppers gathered Oct. 17, 2014, for the grand opening of the Springfield Town Center, a completely revitalized version of the long dilapidated Springfield Mall. The first in a multi-phase redevelopment plan for the area that includes new residential and office space, the born-again retail now destination hopes to draw diverse clientele from around the region with higher end vendors like British fashion brand Topshop, designer Michael Kors and a fresh batch of restaurants including Maggiano's Little Italy.
"People in this end of the county have waited literally decades to have their mall returned to them," said Supervisor Jeff McKay (D-Lee). "This is by order of magnitude biggest thing that happened this year."
"Folks in Lee District were just euphoric," said Board of Supervisors Chairman Sharon Bulova. "It's breathed new life into that part of Springfield."
World Police and Fire Games
About 12,000 athletes from over 70 countries, roughly the draw of the Olympics, will descend on Fairfax County from June 26 to July 5 this summer. Members of police and fire departments around the world, they also train rigorously to compete in a variety of sports and activities. The county isn't building any new infrastructure to accommodate the games and the expected 30,000 spectators; rather it's spreading the activities out across George Mason University facilities, park facilities, down into Loudoun County and up into Maryland.
"Already there's a lot of buzz and efforts underway to make sure we do right by that opportunity," said Board of Supervisors chairman Sharon Bulova. "This is huge for Fairfax County to have won these games. Some of the previous locations have been in Belfast, Australia, New York. So for a county to have bid on and won these games is a real feather in our cap."
"It's going to be a huge boost, over $60 million in economic impact," said Delegate Eileen Filler-Corn (D-41). "And it's a great way to show our support for the first responders who are also true athletes, training hard for this for years."
Former Lorton Prison and Occoquan Area
*Over the summer in 2014, the Board of Supervisors approved a $30 million bank bailout of the struggling Workhouse Arts Center. "That was a bad deal for the county's taxpayers," said Supervisor Pat Herrity (R-Springfield). "It was the third year in a row we raised taxes for our homeowners: 7 percent, for 14 percent over three years. We haven't made the tough decisions we need to make."
*Also in the summer, the supervisors voted to close the Lorton landfill earlier than its owner's proposed date of 2025. "Given what was on the table," said Herrity, "I was supporting the decision not to approve a major expansion of the landfill. It was the right decision and big victory for the citizens of Lorton and South County."
*Occoquan Regional Park will be undergoing renovations beginning in 2015, including a brand new events center named for the late Jean R. Packard, the first female chairman of the Board of Supervisors, trailblazing civic leader and quarter-century representative on the Northern Virginia Regional Park Authority (now NOVA Parks). "The events center is the biggest deal," said Bulova, "but also they'll be improving the trail network, some historic features and adding a Suffragette memorial."
Transportation Improvements
With money finally coming in from the 2013 transportation bill delegates Tom Rust (R-86) and Dave Albo (R-42) helped bring about, as well as the county's passage of a transportation bond referendum in 2014, roads like the Fairfax County Parkway and Old Keene Mill Road are being repaved. "The state was so broke, there wasn't enough money to put in one stoplight," said Albo. "This bill, Bob McDonnell's big achievement, basically cut the gas tax, raised sales tax and created billions of dollars for roads." Other developments going forward in 2015 include extending Shirley Gate Road to the Fairfax County Parkway and updating the connecting Popes Head Road interchange, and improving the intersection at Kings Highway, Van Dorn Street and Telegraph Road. Herrity is also optimistic about the completion of the I66 corridor improvements study completed in 2014, as well as the Fairfax County Parkway corridor improvement study getting underway in 2015. "We're expecting interstate level volumes by 2030," he said. "We need to get in front of the problem."
"In terms of mileage, we don't talk that way," said Congressman Gerry Connolly (D-11). "We talk about time: How long does it take? Our congestion is such it's immaterial how far it is. We haven't passed a long term transportation and infrastructure bill; we've only been doing it year by year and need immediate reform."
Additional Highlights
*Good going on behind the scenes: "I enjoyed events around so many of the nonprofits, out there helping folks who need the help the most," said Delegate David Bulova (D-37). "We've got FACETS, Our Daily Bread, Court Appointed Special Advocates for children, the LAMB center, Katherine K. Hanley Family Shelter. Just wonderful stories of everyday heroes going above and beyond."
*Full-Day Mondays implemented in Fairfax County Public Schools: "We've had some issues with funding and how it happened," said supervisor John Cook (R-Braddock), but the policies are good there. Those and pushing back start times are positives in the schools."
*"Obviously it's an election year," said McKay. "The entire Board of Supervisors, school board, delegates, among others. That's exciting. It gives us an opportunity to get a good exchange of ideas out there, get the public more civically involved."
*"Our $168 million budget shortfall," said Herrity. "Our poor economic growth, dealing with that is going to be a big thing in 2015. Our region ranks below Detroit, and has for the last three years. We have to open Fairfax for business again."
*Phase I construction of the Silver Line Metro and securing financing for Phase 2: "Talk about something that's going to be transformative for the next several generations," said Delegate Bulova. "It's making people mobile in different ways; it's really started to show the power of some of the investments we're starting to make in transportation at the General Assembly."
*New 95 Express Lanes opened in 2014.