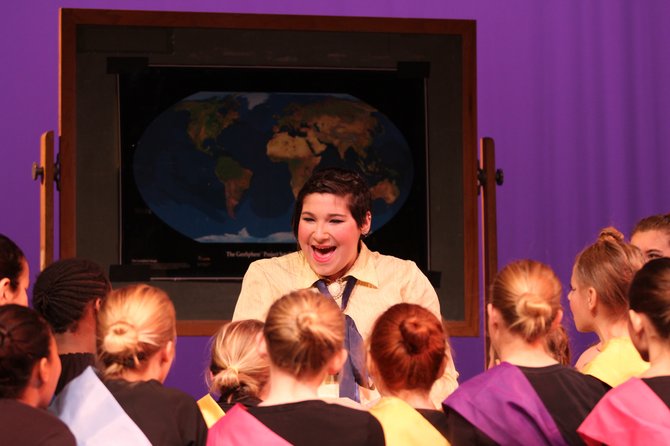 Hundreds of Broadway fans turned up at South Lakes High School on Thursday, Jan. 17, and Friday, Jan. 18, for a musical treat—students from South Lakes High School, two middle schools and eight elementary schools performed over two dozen classic numbers from musicals such as Guys & Dolls, Godspell, Grease, Les Miserables and South Pacific.
Sponsored by the South Lakes High School Chorus department and supported by several returning alumni, the annual Broadway Night event brought the bright lights and glitz of New York to Reston once again.
Performers were supported by recent South Lakes graduates who served as guest directors, choreographers and coaches. They included: Jessica Blohm, SLHS '07 graduate; Marshall Severin, SLHS '08 graduate; Sarah Stanley, SLHS '09 graduate; and Stefanie Brown, SLHS '10 graduate. Chorus Director Rita Giggliotti was the driving force behind the show.
Student participants were from Dogwood Elementary, Forest Edge Elementary, Fox Mill Elementary, Hunters Woods Elementary, Lake Anne Elementary, Sunrise Valley Elementary, Terraset Elementary, Floris Elementary, Langston Hughes Middle School and Rachel Carson Middle School.