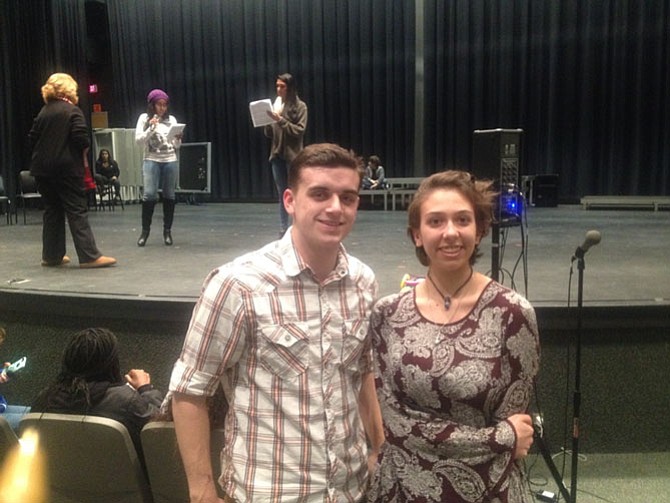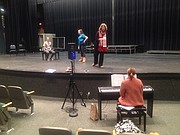 Reston South Lakes High School Chorus Department will soon begin its 11th year of Broadway Night. This year's show will feature rock and roll songs from Broadway shows. More than 200 students from South Lakes Pyramid schools are participating in this musical theatre intensive that is centered on teaching students who want to grow in voice, acting, dance and technical theatre. Senior Sean Danaher looks forward to hearing the song "21 Guns" which will be sung by some of his friends. Danaher will be soloing in the song "Time Warp" from the Rocky Horror Picture Show.
SLHS Choral students assume leadership roles in running every aspect of the show: performing, directing, production, technical theatre, publicity, costuming, choreography, all in a three-week period. Choir teacher Rita Gigliotti and other qualified performing arts professionals provide guidance and instruction. The theme for the show is Rock On Down, and will feature songs from musicals including "Evita," "Hair" and "Jesus Christ Superstar." "It is a huge opportunity for kids in elementary schools and middle schools," said junior Maddy Emmert, who is helping with the costumes in this production.
The event will feature music featuring students from South Lakes HS, Hughes and Carson MS and eight elementary schools. Show dates are Saturday, Feb. 6 at 2pm and 7pm, and Sunday, Feb. 7 at 2pm. Purchase Tickets online at: http://southlakeschorus.org/tickets/.
Eight bands featuring young talent will be performing in a Battle of the Bands shows presented by the South Lakes High School Band Boosters. Finalists will show their stuff on stage at Ned Devine's in Herndon on Feb. 21, and doors open at 4 p.m. Bands will be competing for cash prizes, and will be judged on sound, musicianship, stage presence and originality. The judge panel includes Ryan McIlveen (FCPS School Board Member), David Lang (Artistic Director of Reston Chorale), and Kevin Bearce (Drummer and owner of The Music Stores). The event is a fundraiser for the South Lakes High School Band Boosters. Proceeds will be used to support the SLHS Band program. For more info see www.southlakesband.org.
South Lakes High School students were successful in their audition for All-District Band: Abel Ruiz Diaz (percussion – alternate); Assad Aijazi (tuba); Catie George (clarinet); Darwin Walter (alto sax – alternate); David Clark (alto sax); Everest Gromoll (trumpet); Gary Quaresima (French horn); Kamron Rose (French horn); Maddi Nicol (contra bass clarinet); Mason Moy (tuba); Max Onozuka (clarinet); and Miriam Wolter (trumpet).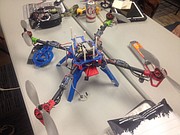 Another upcoming event which will be hosted at South Lakes HS and Langston Hughes Middle School is the annual NoVa Mini Maker Faire. Tech enthusiasts and innovators will gather Sunday March 13, at the Reston schools to meet Northern Virginia engineers, woodworkers, artists, and craftspeople to show and tell what they are making. Tickets are on sale. Early bird tickets are: $10 for adults and $2 for children through Feb. 12. Tickets at the door are $20 for adults and $8 for children.
More than 100 makers will share their knowledge through hands-on projects for adults and kids in areas from primitive tools and blacksmithing to drones and 3D printers. Makers from the 2015 Faire to return in 2016 include: Everest Gromoll, a South Lakes HS student, who taught himself to blacksmith; DC Area Drone User Group; Craig Trader's Chaos Machine (a large automated marble machine); Nova Labs Learn to Solder; a working replica of R2D2 by Staunton Makerspace; and Vicky Somma, winner of 3D printed White House ornament. Fairegoers can participate in workshops, performances, short talks, and food trucks.
NoVa Mini Maker Faire is independently organized by Nova Labs and is operated under license from Maker Media, Inc. Sponsors and community partners include: Fairfax County Public Schools, Reston Community Center, Community Foundation of Northern Virginia, Fairfax Connector, and GEMS. For additional information about the NoVa Mini Maker Faire, sponsorship or volunteer opportunities http://makerfairenova.com.