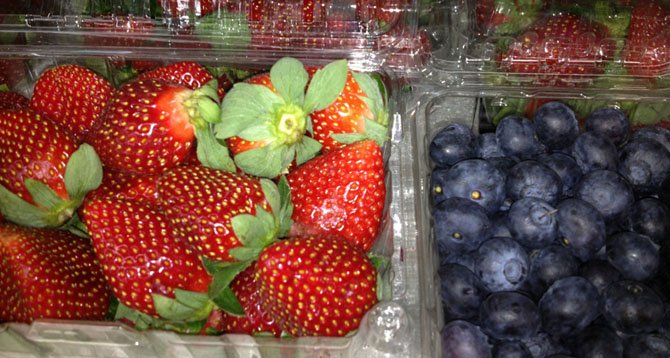 When Mary Elizabeth O'Conner enters a supermarket, she is careful stay within the outer perimeters of the store. "Most grocery stores are designed so that the healthiest and non-processed food, like fresh vegetables and meat are kept on the outer edges," she said. She looks for heart-healthy foods like whole grains and fresh fruit.
O'Conner has two good reasons for being tuned in to nutrition: "Both of my parents died unexpectedly from heart attacks," she said. "My father died 15 years ago in February."
February is American Heart Month and health experts are encouraging diet and exercise changes that will lead to better heart health.
"In terms of exercise habits for a healthy heart just getting regular aerobic exercise is a good idea … to ensure a healthy cardiovascular system."
— Joel Martin, Ph.D., George Mason University
Joel Martin, Ph.D. an assistant professor of kinesiology at George Mason University in Fairfax, says the Dietary Approaches to Stop Hypertension (DASH) eating plan is often recommend for people who are at risk for heart disease.
"The diet has been proven by numerous research studies to lower blood pressure. High blood pressure is a major risk factor for serious heart problems, [like] heart attacks for example," he said. "The diet emphasizes fruits, vegetables, whole grains and lower amounts of sweets, red meat, and sodium. It especially emphasizes lower amounts of sodium to decrease blood pressure."
Two good options are strawberries and blueberries. In fact, a study published last month in the Journal of the American Heart Association showed that eating three or more servings of the berries per week may help women cut their risk of a heart attack by as much as one-third.
Blueberries and strawberries contain high levels flavonoids. The researchers reported that a specific sub-class of flavonoids, called anthocyanins, may help dilate arteries, counter the buildup of plaque and provide other cardiovascular benefits.
Martin added that consuming more Omega-3 fatty acids has also been shown to lower the risk of heart disease: "Foods high in Omega-3 fatty acids are fish, flaxseed, and nuts," he said. "Many people also choose to take an Omega-3 supplement."
There are some foods that should be avoided for optimal heart health, say some experts. "[Foods that are] bad for hearts include cholesterol rich foods, like foods from animals. The current recommendation is beef once per week with a serving size the size of a deck of cards," said Laura Evans, Assistant Professor, George Mason University School of Nursing. "Avoid trans-fats. These are modified fats found in processed foods, cheese, all processed foods and salt because it encourages the body to hold on to water and can increase blood pressure in certain patients."
Andrew Meade of the Reston-based National Association for Sports and Physical Education, says that the average person can reduce his or her risk of heart disease by exercising for at least 30 minutes each day. "That is the only way to realize any heart-health benefit," he said. "Exercising for 30 minutes most days of the week builds your cardiovascular endurance."
Martin, who agrees, said, "In terms of exercise habits for a healthy heart, just getting regular aerobic exercise is a good idea … to ensure a healthy cardiovascular system."