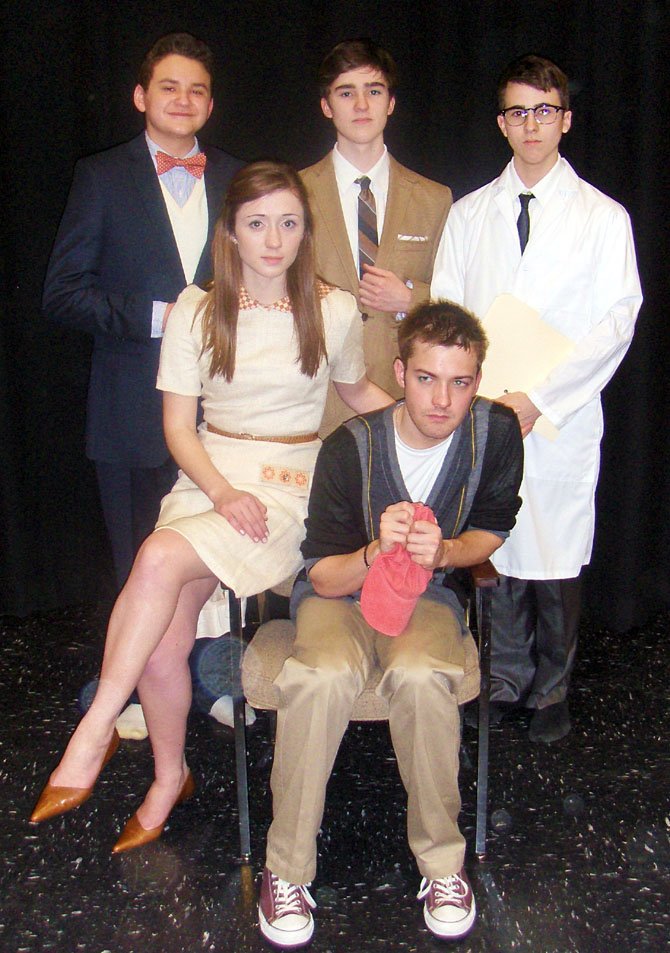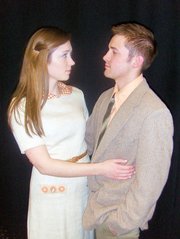 Centreville — The past two years, Westfield High won a slew of Cappie awards with musicals. But this time, its Cappies show is "Flowers for Algernon," a thought-provoking drama with a serious message.
The curtain rises Friday-Saturday, Feb. 15-16, at 7:30 p.m.; and Sunday, Feb. 17, at 2 p.m. Tickets are $10 in advance via www.westfieldtheatreboosters.com, and $12, adults, and $10, students, at the door. All seating is reserved.
"The kids wanted to do a drama this year and I have really strong actors, so I wanted to highlight them," said Director Susie Pike. "And I love this play's message that there's always hope, and we need to accept all people and look at everyone's strengths and gifts."
In the play, Charlie Gordon is a 32-year-old mentally challenged man with a 68 IQ. But he undergoes an experiment — previously only tested on mice — that raises his IQ to genius level. "The story's also about his relationships with his teacher, parents and doctors, and what happens when he realizes he's beginning to revert back," said Pike. "It's very poignant."
There's a cast and crew of 36 and, said Pike, "It's beautiful for me to watch these young adults portraying such complex characters. And this play, as in all art, allows us to discuss major issues, such as, should we do experiments on people, and how far should science push?"
"We live in a time of exciting, medical advances and people surviving things they didn't before, because of new treatments," she continued. "But most of all, we have to respect human beings and who they are — and that's what I want people to go home with. I also want them to say, 'Wow, these kids are really fantastic and not afraid to tackle serious issues and complex characters with integrity.'"
The story takes place in 1965, so the actors are also having fun exploring the attitudes and clothing of that time period. Student Zoe Hawryluk is the costume designer, and she scoured thrift shops to find appropriate items. "We're lucky because a lot of the 1960s-inspired clothes are coming back into style today," she said.
So the boys will wear skinny-lapel suits, narrow ties and flat-front pants. Girls will wear skirts, dresses, saddle shoes and pearls. "They wore more formal clothing then," said Hawryluk. "People dressed up, men wore hats and girls rarely wore pants or shorts."
Junior Brandon Sanchez designed the set; scenes will take place in a bakery, a doctor's office, laboratory, two apartments and Charlie's mother's house.
"I tried to show people the inner workings of Charlie's mind through the set," said Sanchez. "For example, whenever Charlie has a flashback of his family, the set opens up to reveal a maze behind it. We're also using period furniture, like couches and desks, to show the '60s time period. It's fun thinking of things and putting them on paper; and then seeing them come to life on build day is really special."
Playing Charlie is senior Mitchell Buckley. "At first, he's innocent and naïve because of his mental disabilities," said Buckley. "But he's essentially good, sweet and a nice guy who likes to help people; he just wants people to like him. As he becomes more intelligent, he becomes a little more cynical and less forgiving of people's faults."
Buckley said it's challenging to accurately portray Charlie's mental disabilities and then show him as a changed person. "It's a huge, character arc," he said. "So it's interesting playing someone so childlike as a grown man and then beginning to question his views of the world as he becomes more intelligent."
Buckley said the audience will see Charlie's goodness and will be sympathetic toward him. And, he added, "That'll make the play's events have a powerful effect on them.
Senior Madeleine Bloxam plays Alice Kinnian, a night-school teacher for mentally challenged adults, including Charlie. "She's sweet and has Charlie's best interests at heart," said Bloxam. "She cares deeply for him as a student; and later, as their relationship grows, she falls in love with him."
Since their relationship has to change and blossom on stage, Kinnian changes along with Charlie. "But as he gets smarter, she's less confident about her own intellectual ability," said Bloxam. "And she realizes there's nothing more for her to teach him."
She said the audience will like the play's humanity. "It makes a statement that sometimes these experiments were unethical in the way the subjects were treated," said Bloxam. "And this show has so many themes — love, finding identity, family relationships — that it has a broad spectrum of concepts people can connect with."
Portraying Dr. Strauss, the main psychologist studying the aftermath of Charlie's operation, is Sanchez. "He's dedicated to his work because this is such an extraordinary experiment in psychology," said Sanchez. "He and Professor Nemur are both excited about it, but Strauss sees Charlie's more human aspect and is more sympathetic to him as a person. But still, his primary goal is to finish the experiment and show the scientific community its effects."
Sanchez is enjoying working with Alex Mann, who plays Nemur, "because our characters are similar in some ways, so it's fun being part of a pair." He said the story will make people think about their views "toward people with mental issues and treat people more how they'd want to be treated."
Nemur's the doctor who operates on Charlie and follows his progress afterward. Mann, a senior, describes his character as focused on his work and wanting to be on science's cutting edge. "And that often gets in the way of his humanity," said Mann. "He's done this procedure on mice, so he doesn't know how to change his attitude toward Charlie and treats him as an object."
But, said Mann, "When Charlie develops mentally and emotionally, his eyes are opened to the doctor's treatment of him. You can feel Nemur's determination and ambition, and he rarely lets his emotions show. So when he does, it's much more effective."
He said the story's touching and, at points, "will leave the audience breathless. It's well-put-together and there's a lot to take away from it, depending on your point of view."
Junior Julian Sanchez portrays Burt Seldon, a college student and researcher working on his senior thesis. "He's the only one on the research staff who sees Charlie as a human being, rather than a test subject," said Sanchez. "He's kind and caring and consistently argues with the older researchers over how to deal with Charlie. He's much less jaded than them."
"I love playing Burt because he plays a pivotal role in Charlie's life and becomes a guiding force for him throughout the play," continued Sanchez. "I think this is a timeless tale of acceptance and the limitlessness of hope. It's definitely resonant nowadays because of issues involving the mentally challenged and how we treat them."