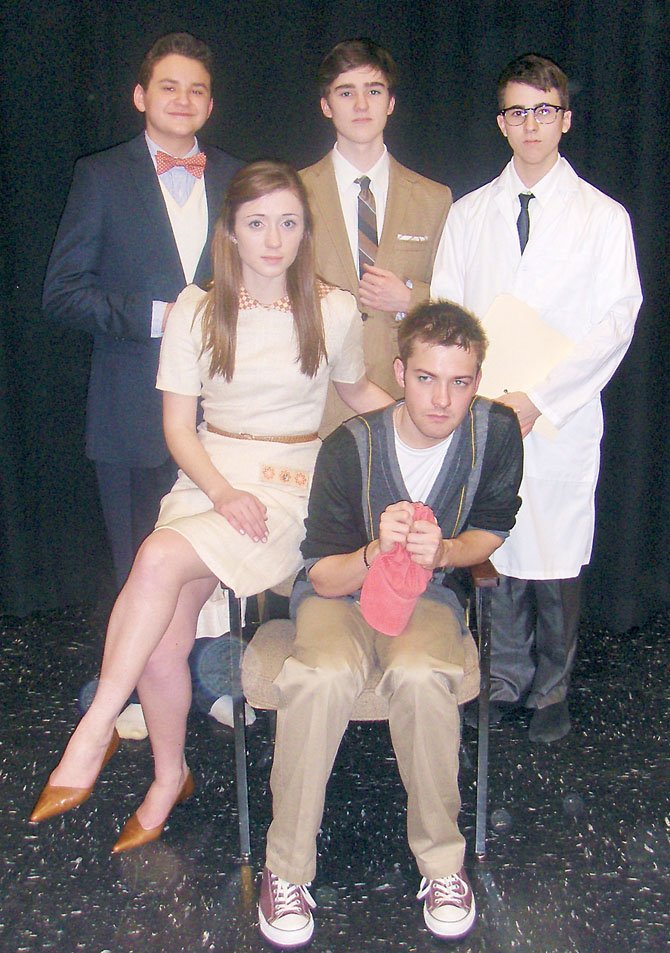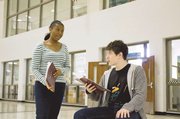 When the winners are announced during the 14th annual Cappies Gala, June 9, at The Kennedy Center in Washington, D.C., students from Centreville and Westfield high schools will be there, eager for the results.
That's because both schools were nominated for awards for their Cappies shows. Centreville received nominations for its high-spirited musical, "Cabaret," and Westfield was recognized for its touching play, "Flowers for Algernon."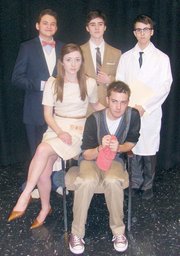 Centreville's honors are for ensemble in a musical, the Kit Kat Girls, and female dancer, Nora Winsler. Comprising the Kit Kat Girls were Anna Adere, Cameron Daly, Elaine Edwards, Stephanie Rathjen, Jemma Stratton, Sarah Wills and Winsler.
"The ensemble of the Kit Kat Girls was so fortuitous," said Centreville Theater Director Mike Hudson. "They maintained the energy and served as a common thread throughout the show. All the girls were so energetic and they soaked up the choreography. They kept a high level of focus and never dropped the mark. They brought an electric touch, and I am very proud of them."
Regarding Winsler's dancing nomination, he said, "I was not surprised when Nora was nominated for female dancer. She stands out. She can't help it, she just does. Talent, energy, focus and charm — you can't have a better combination — and she sings, too."
Hudson said Winsler draws the audience's eye because "she lives the role and makes it totally real. It is her natural ability to focus and make the character unique and believable. Her physicality is poised and graceful. She is a precise dancer, but she gives her performances a little something more: The audience feels that she is dancing for them, and that is important."
Westfield's nominations are for best play, lead and supporting actor in a play, creativity, props, costumes, sound, and marketing and publicity. And Director Susie Pike couldn't be happier.
"I am so thrilled that we were nominated for best play," she said. "Everyone in my Theater III and IV class was involved, so it was both a class and Cappie project. And, to me, being nominated is like we won. Being recognized for our hard work is really cool."
Pike said this show was a good choice for the actors she had. "I believe art should make you think, and this show did," she said. "So getting nominations is just icing on the cake.
Mitchell Buckley was nominated for lead actor, and Pike said she's enjoyed seeing his growth from mainly a character actor into a role "with tremendous depth and intelligence. He was able to portray Charlie as kind and lovable before the operation and then transition him into an intelligent human being who saw universally what was going on around him."
"This part is a true, acting challenge, and he played both Charlies with the same amount of energy and realism" continued Pike. "And seeing this character fall in love and portray such a vast range of emotions in a two-hour show was amazing."
Westfield's nominee for supporting actor in a play is Julian Sanchez. "The minute he auditioned for Bert, I knew I'd found the right person," said Pike. "He was able to play both sides of him — the cool scientist as well as the emotional, human side — and that, to me, is real acting. He was the transition between the doctors only seeing Charlie as a guinea pig for their own benefit and a man."
Alex Mann and Joe Drzemiecki were nominated for creativity. Mann mainly developed the show's original music which Drzemiecki played live. "The music was intertwined within the production where none was written," said Pike. "So it was special and I'm glad the critics noticed it was original and done by my boys."
Regarding the props nomination, she said, "I'm glad everything we had onstage worked. We had fake mice and a maze for them, and everything we used was from the 1960s."
Zoe Hawryluk received the costume nomination, and Pike said she did a fabulous job researching the time frame and styles and devised color palettes and themes for the characters. For instance, said Pike, "Madeleine [Bloxam] started off in neutral colors; and as her love for Charlie grew, she began wearing more vibrant colors — some even with flowers."
Pike was impressed with the amount of detail Hawryluk went into. "The characters had period shoes and costume jewelry to match each outfit," she said. "Zoe really thought it through, and every costume and accessory had a purpose."
The sound nomination went to Ariana Willis, and Pike said she did a great job "recording the show's teaching machine and making sure the recorded sound matched the stage sound."
Bloxam, Buckley and Sanchez were nominated for marketing and publicity. "They worked well as a team and kept coming up with new ideas," said Pike. "They interviewed the play's leads and developed a pamphlet which the Cappie critics could read when they came in, so they'd get to know a little about the people behind the characters. And I loved their poster design."
Pike said her whole cast was "a joy to work with. I'm so proud of everyone in this play; they all did a fabulous job and did the show exactly as I'd imagined. I wish all the schools could win; we all work hard. It's a joy to go to The Kennedy Center and perform on that stage. What more could I ask for?"