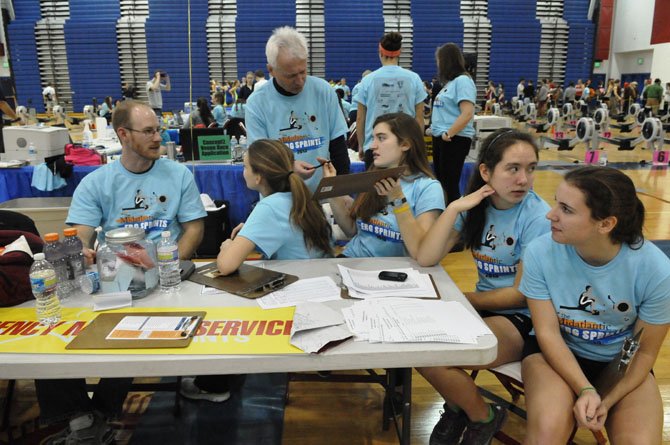 Photo Gallery
Erg Sprints
Click Photo for Flash
Alexandria — More than 1,600 competitors descended upon the Earl Lloyd Court in the gymnasium at T.C. Williams High School on Saturday morning, Feb. 2, for the 2013 MidAtlantic Erg Sprints. More than 100 events throughout the day were scheduled and completed by junior, college, masters and adaptive rowers. Events were also scheduled for lightweights, coxswains, parent/child and children.
The event featured six Olympic and two Paralympic athletes, as well. The Olympians and Paralympians included:
Esther Lofgren, who won a Gold Medal as a member of the 2012 U.S. Olympic women's rowing team in London this past summer;
Sam Stitt, who rowed in the 2008 Beijing Olympics and is now the Varsity Lightweight Rowing Coach at Georgetown;
Emma Preuschl, who won a Silver Medal as a member of the 2008 U.S. Paralympic women's rowing team in Beijing and competed in 2012 London games as well;
Linda Miller, who rowed for T.C. Williams and George Washington University and went on to become a member of the 2000 U.S. Women's Olympic Rowing team in Sydney;
Lisa Schlenker, a member of the 2000 and 2004 Olympic rowing teams who is now the Head Coach of the University of Wisconsin's Women's Varsity lightweight rowing team;
Giuseppe Lanzone, a member of the last two U.S. Olympic rowing teams and currently the men's lightweight rowing coach at Georgetown;
Brett Sickler, who was a Team USA alternate for the 2008 Beijing Olympic Games and is now Assistant Women's Rowing Coach at UVA; and,
Simona Campbell, who won a silver medal as the coxswain on 2008 U.S. Paralympic women's rowing team in Beijing.
For more information about the Erg Sprints, visit www.ergsprints.com.