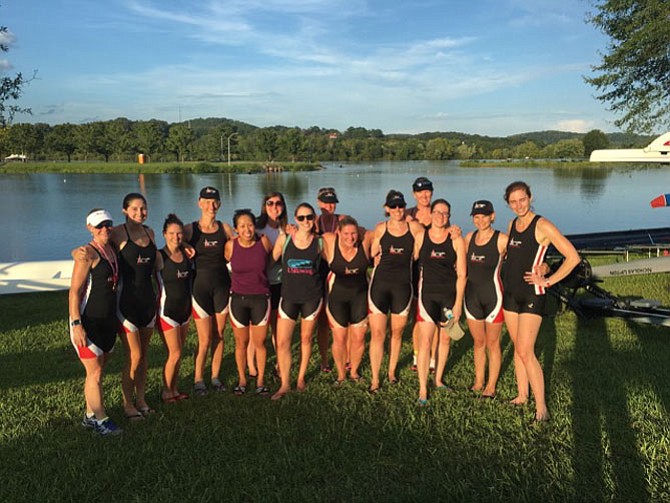 Alexandria Community Rowing's (ACR) Competitive Women's Sweep team recently returned from US Rowing Masters' National Championships, the highlight of the summer sprint season for rowers over age 21.
After spending months practicing sprints on the Potomac, the team traveled to Oak Ridge, Tenn. for the 4-day regatta. Eighteen rowers competed in eights, fours, and a pair in age categories ranging from A (27-35 years) to D (50-54 years), as well as lightweight and sculling events. The team medaled in six events (2 bronze, 2 silver, and 2 gold) and ACR rowers won gold and silver as part of multi-club composite boats.
This fall, ACR will field scull and sweep boats in 5,000 meter local and regional head races. These include the Head of the Potomac, Occoquan Chase, Head of the Charles (Boston), Head of the Schuylkill (Philadelphia), Head of the Occoquan and Head of the Hooch (Chattanooga). The full schedule can be found at www.alexandriarowing.com/calendar/
Experienced and beginner rowers can get involved in ACR in several ways. For novices, the club hosts an annual Learn to Row day event; a one-day, free hands-on experience that introduces community adults to rowing technique both on and off the water. In the summer, ACR provides novice sweep and sculling programs over two-week sessions. These coached programs meet three days per week in the afternoons and provide entry for novice or less-experienced rowers to gain skills to prepare them for the fall and spring coached novice and recreational rowing programs. More information about programs and contact information for coaches can be found at www.alexandriarowing.com/programs.

In the winter (November – March), community members may consider winter training – three days per week of indoor rowing (Concept 2 ergometers) and weights to prep for competitive teams in the spring.
Finally, ACR welcomes individuals to get to know the club as a volunteer and/or competitor at the MidAtlantic Erg Sprints (Feb. 17-18, 2018), the second largest indoor rowing competition in the world. The Alexandria Crew Boosters hosts this annual event as a fundraiser for the T.C. Williams High School crew program. For more information, see www.ergsprints.com.