This year's Workhouse Arts Center Annual Collectors Showcase has over 90 works of arts displayed. The works range from paintings, fiber and ceramics to photography, blown and fused glass, and more. All works are by Workhouse Studio and associate artists.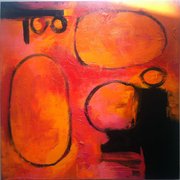 The art works were judged by Joanna Moser, deputy chief curator, Smithsonian American Art Museum. Moser described the overall art as "really wonderful works; with a great deal of variety."
Moser selected Kerin McBride's "Orange and Black Abstract, 2010" as best in show. Moser said of the McBride art, "It's bold, monumental for its size, and suggests figures. A gutsy choice of colors."
Other awards included two runners up: Sandy Martina's "Amorphic Crater Bowls, 2012" and Dale Marhanka's "Untitled Lidded Vessel, 2008."
Honorable Mentions were awarded to Bonnie Ferguson Butler, Mary Exline, Ian Kessler Gowell, Maria Bennett Hock, Karen Hutchison, Kathryn Lagassey, Rick Reda, Lynnette Reed, Crystal Rodgruie and HsiMei Yates.
Where and When: Annual Collectors Showcase, Workhouse Arts Center, McGuire Woods Gallery, 9601 Ox Road, Lorton. Collectors Showcase open until Saturday, Feb. 23., Wed-Sat, 11 a.m.-7 p.m. and Sundays noon-5 p.m. Visit www.workhousearts.org or call 703-584-2900 .