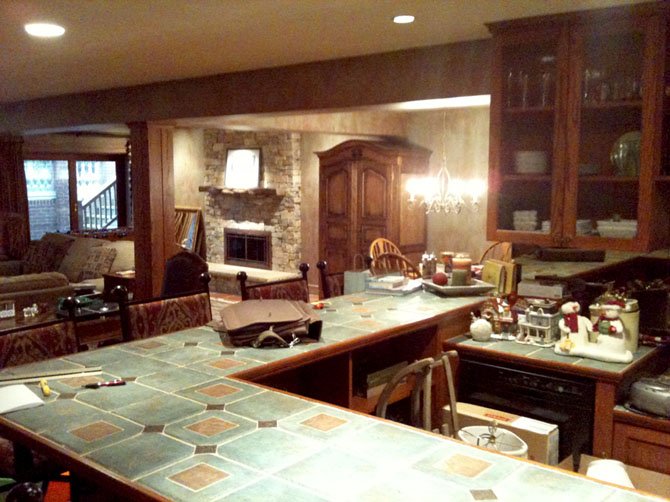 Converting a previously finished lower-level into a suite custom-configured to satisfy the sometimes contrasting wishes of a five-member Oakton family recently won Sun Design Remodeling of Burke a "Contractor of the Year" Grand Award for "Best Residential Basement Interior."
The coveted prize — which acknowledges excellence in home remodeling in an area-wide competition — is conferred annually by the National Association of the Remodeling Industry's metro D.C. chapter.
Among the winning project's particular merits: a solution that augments natural light and visual continuum in a lower level suite by removing interior walls, relocating a critical structural support and re-configuring several rooms.
Sun Design Remodeling, a full-service residential design-build firm, also created and fabricated several complex built-ins to specification.
"I wouldn't have thought many of these changes were even possible," homeowner Don Irwin said, on learning of the award.
"We had moved into this house about two years ago — pretty resigned to several fixed elements in the downstairs that obstructed our plans. Sun Design not only showed us what could be done, but also accommodated our wide-ranging family requirements. It's a really skillful execution."
AT MORE THAN 2,000 sq. ft., the lower level to the four bedroom house the Irwins had purchased in 2009 seemed ideal for a host of leisure pursuits; once in residence, however, the family soon found that many of existing activity zones didn't really suit and weren't easy to adapt to new uses.
For starters, there was the U-shaped bar and full kitchen at the foot of the stair which consumed more than 80 sq. ft. of valuable floor space.
The corner guest room, which linked to the only bathroom via a long interior corridor, was not a a critical necessity either.
Moreover, the bathroom itself was too small, and wrapped by a sprawling L-shaped "mystery room" that had inadvertently became a repository for the 4-year-old daughter's playthings.
An inviting recess on the rear north side of the house featured a working fireplace — and might have sufficed as a TV-viewing nook, but for a mid-space structural support that made it impossible to position furniture for the desired hearth-side view.
Still more vexing, the offending column hampered sightlines to a west-facing two-panel sliding glass door that offered both a pleasing vista and ready access to the beckoning outdoors.
"The column ruined the space, so the rear recess just became cluttered," Irwin recalls.
"Chairs were turned in towards the mid-room...where we kept the television. The fireplace and glass slider were out of view. We wanted an open plan with designated activity areas; instead, things were spilling into each other."
Despite these seemingly intractable challenges, the Irwins held fast to one wish at the top of the lower level makeover agenda: a family fitness suite — one that would include a work-out room directly linked to a spa bath and a sauna."
"Was this even feasible?" the homeowner recalls wondering. "I wasn't sure."
IT WAS AT THIS JUNCTURE that Irwin summoned Sun Design, the firm he had hired to makeover the lower level of their previous residence several years back.
"They understood our vision," Irwin says. "We reviewed our program point by point, and they immediately began developing plans showing where new rooms should be located and how to integrate the whole. Better yet, their interior design sketches really helped us make informed choices."
On this score, an early decision to eliminate the wall sequestering the guest room proved particularly fateful.
"Bob Gallagher, the company president, showed us how we could augment available light throughout the suite by deleting a wall shared by a room we didn't use much anyway," Irwin says. "I speculated that there might be occasions when we'd want an extra room for guests, and that's when Bob came up with the idea of a rolling modular door."
Essentially, what evolved from Gallagher's proposal — a three-panel circa 1890s barn door on mounted rollers — not only proved functional for privacy as needed, but also introduced an aesthetic element that moved the entire interior design scheme forward.
"The hanging barn door showed us some ways in which we could use 'reclaimed' wood to create unique interior accents," Irwin said. "From here we began to envision a kind of rustic, textured interior,"
The homeowner said that the resulting "lodge-style" has proven to be a good move — a warm, welcoming ambiance the whole family naturally gravitates towards.
To make better use of the north-facing recess, Sun Design introduced concealed structural supports that eliminate the need for the midroom vertical shaft, allowing the Irwins to comfortably arrange furniture for a view of the hearth and the slider.
Once the space was opened up, it was feasible to re-design the recess for family gatherings — complete with a bold flagstone back wall, custom storage built-ins and a 70" flat screen TV.
To configure a footprint for the family fitness center, the design team deleted both an interior closet and the hall linking the guest room to the bathroom, then trimmed back the daughter's playroom and tripled the space allocated for the new bathroom.
The 12' x 12' exercise room — which is equipped with a treadmill, workout bench and weight system — now opens directly into the spa bath which features an infrared sauna for four and a large walk-in shower with bench.
The spa bath is finished in tumbled "Picasso" stone with porcelain detailing. There's a Bacino vessel sink next to the walk-in shower. The warm sponged-on "adobe" wall coloring picks up the golden highlights of the textured finishes imbuing the room with a softly restful glow.
Irwin says the entire family uses the fitness center regularly.
As an alternative to the out-sized U-shaped bar, Irwin had Sun Design create a highly functional wet bar with two refrigerated drawers and a microwave. With its marble surfaces, glass-facing cabinets and crown molding, the piece is a perfect complement to the reclaimed wood, antique brackets and other style-specific interior accents.
The space-saving solution also allowed the family to introduce a broader array of gaming tables including billiards, ping pong, chess — all of which claim floor space of their own.
A room below the stair, behind swinging saloon doors, was created specifically for the daughter's play needs.
Several new acquisitions — leather upholstered chairs, sofas and draperies — reinforce the textured ambiance. The Irwin's decorator, Sharon Kleinman, worked closely with Sun Design in the finishwork process.
"This is really everything we had wanted in a family activity environment," Irwin said. "Obviously, it takes a large range of skills to make something like this happen, so it's gratifying to learn that other professionals acknowledge that something special has been accomplished."
Sun Design Remodeling frequently sponsors tours of recently remodeled homes as well as workshops on home remodeling topics. Headquartered in Burke, the firm recently opened a second office in McLean. Call 703-425-5588 or visit www.SunDesignInc.com.