Landon Middle School, in collaboration with Holton Arms Middle School, has produced a one-hour, middle school age-appropriate version of the musical Guys and Dolls, Friday, Feb. 8, at 7 p.m. at Landon School's Performing Arts Center.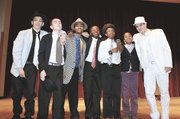 "Guys and Dolls" was directed by Landon Middle School English teacher and Drama Instructor Fred Zirm. The musical director is Landon's Upper School choral teacher, Tad Cavuoti. There were 50 middle school students in the musical production who live in the greater Washington, D.C., and Northern Virginia area.
The lead cast includes Michael Berkowitz (Sky Masterson) of McLean; Samantha Noland (Miss Adelaide) of Silver Spring; Evan Moses (Nathan Detroit) of Washington, D.C.; Soleine Fechter (Sarah Brown) of Potomac; Trey Armstrong (Nicely Nicely Johnson) of Potomac; Romney Rose (Arvide Abernathy) of Falls Church; Cecil Walks (Big Jule) of Potomac; Sam Hanson (Harry the Horse) of Washington, D.C.; Will King (Benny Southstreet) of Bethesda; and Ramin Zarfeshan (Rusty Charlie) of Rockville.