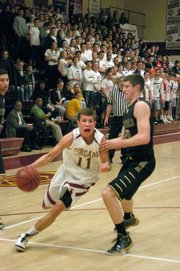 Vienna — Oakton's Thomas Tribble and Westfield's C.J. Hill spent a portion of the third quarter talking trash to one another as the Concorde District foes battled with hopes of securing a Northern Region tournament berth.
Emotion spilled into the fourth quarter as Oakton's Will Smith and Westfield's Chris Mullins were involved in a tussle that resulted in each being assessed a technical foul.
The Oakton Cougars and Westfield Bulldogs entered Friday night's game in a three-way tie for second place, and the two teams played with passion as they attempted to improve their position in the district standings. But when the final buzzer rang, it was fired-up Oakton head coach Dave Brooks hugging guard Robert Bacon and Cougar fans rushing the court in celebration.
The Oakton boys' basketball team defeated Westfield 61-57 during both teams' regular season finale on Feb. 8 at Oakton High School. With the victory, the Cougars secured the No. 2 seed in the Concorde District tournament, which came with a berth in the regional tournament.
Bacon, Oakton's primary offensive threat who finished with 13 points, fouled out with 3:52 remaining in the fourth quarter, but the Cougars found a way to get the victory. Oakton led 59-57 with 12 seconds remaining and senior Michael Fradette buried a pair of free throws to secure the win.
"What I'm most proud of is that we really fought through adversity," Brooks said. "Everybody knows how valuable Robert is to our basketball team. When he fouled out with four minutes to go, we were playing an even basketball game and [junior guard] Brandon Wiseman really stepped up and was a floor general out there. We did a great job valuing the basketball late in the game and we got a lot of good looks because of our execution as a basketball team. We rely so much on isolation sets, but we really played team basketball when Robert was out of the game."
"It's definitely the greatest win of my career."

—Oakton senior Michael Fradette
Fradette and Tribble were two Cougars who came up clutch. Fradette, a 6-foot-5 senior, finished with 18 points and 12 rebounds, and made a huge hustle play with less than 30 seconds remaining. Smith made the first of two free throws to give Oakton a 58-55 lead, but missed the second. The ball was knocked toward the sideline and Fradette ended up on the floor, securing the ball in front of the Oakton student section and the Cougars called timeout.
"It was just a loose ball and I went all out for it," Fradette said. "… It's definitely the greatest win of my career."
Tribble scored nine points and took part in some trash talking—something he said he enjoys.
"I feel like it just helps my teammates get more into the game and be more confident in themselves that [the opponents are] not intimidating me," Tribble said. "I just try to get in other people's heads."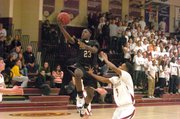 Even fans chanted Tribble's name across the gym at one another as the schools' student sections engaged in a war of words. Tribble's highlight came in the third quarter when he buried a 3-pointer after Hill, who was guarding Tribble and engaging in some trash talk with the Oakton guard, slipped and fell.
Hill finished with a game-high of 23 points.
"[Hill] played a hell of a game," Tribble said, "but not good enough."
With the loss, Westfield received the No. 4 seed and played No. 5 Chantilly in the opening round of the Concorde District tournament on Tuesday. Chantilly won 54-52 in overtime, ending the Bulldogs' season.
"It was just a lot of hostility," Hill said about playing against Oakton. "We're known rivals, so it was a big game for us. Everybody was talking trash, but the main focus was to win the game and we just couldn't come through."
Tre'Von Walton scored 18 points for Westfield and Christian Gray added 10.
No. 2 Oakton will play No. 3 Robinson in the district tournament semifinals at 7:15 p.m. on Thursday, Feb. 14, at Robinson Secondary School.