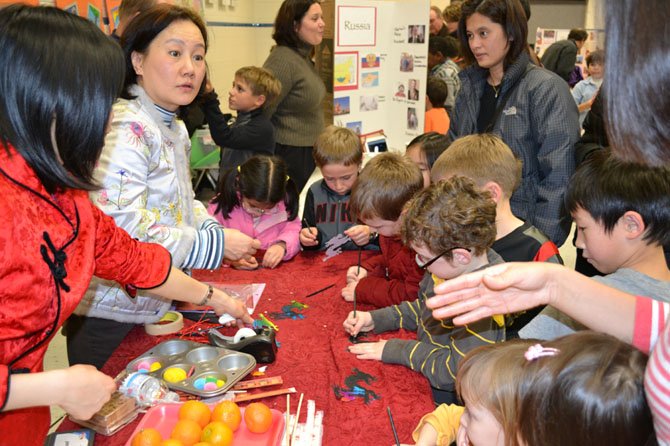 Chesterbrook Elementary School celebrated the international heritage of its students and families last Friday at its third annual International Night.
Photo Gallery
Pride on Display at Chesterbrook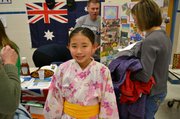 Click Photo for Flash
The festival featured activities, food and costumes of 20 countries such as India, Japan, the Czech Republic, and Azerbaijan. The Chesterbrook cafeteria was packed, shoulder-to-shoulder at times, with children bearing plates of exotic foods. Many of the students were wearing the traditional outfits of their ancestral homes.
"Because we're new to the country, we came here in July, we're really glad to have the opportunity to show a small part of our country," said Ainur Yertlessova, mother of third grader, Adilzhan and his younger sister, Aria. They hosted a table from their home country, Kazakhstan. "We're really open to everything new. And we're happy that people are interested," she added.
That sentiment was echoed throughout the night. The school's cafeteria was decorated with colorful representations of each country's flags, maps, and customs. Many had traditional games and crafts to share. Fifth graders Emma Dirks and Sophie Garzione were helping out at the Austrian table display, hosted by Emma's family. "It's very fun to see all your friends and their cultures," said Emma.
"We have this amazing international community at Chesterbrook and we thought it would just be nice to bring people together in a very low key mix-and-mingle way," said event organizer and Chesterbrook parent Nancy Stuckwisch. "Let people show off all the wonderful aspects of their culture," she added. "Every year the displays get bigger and fancier and the food gets more and more incredible. It's really a fabulous event."
PTA President Beth Mahood said, "It's the kind of event you love to see. Everybody who has a table has a sense of ownership and everybody loves it. It's about learning; and the kids are learning and experiencing different countries."