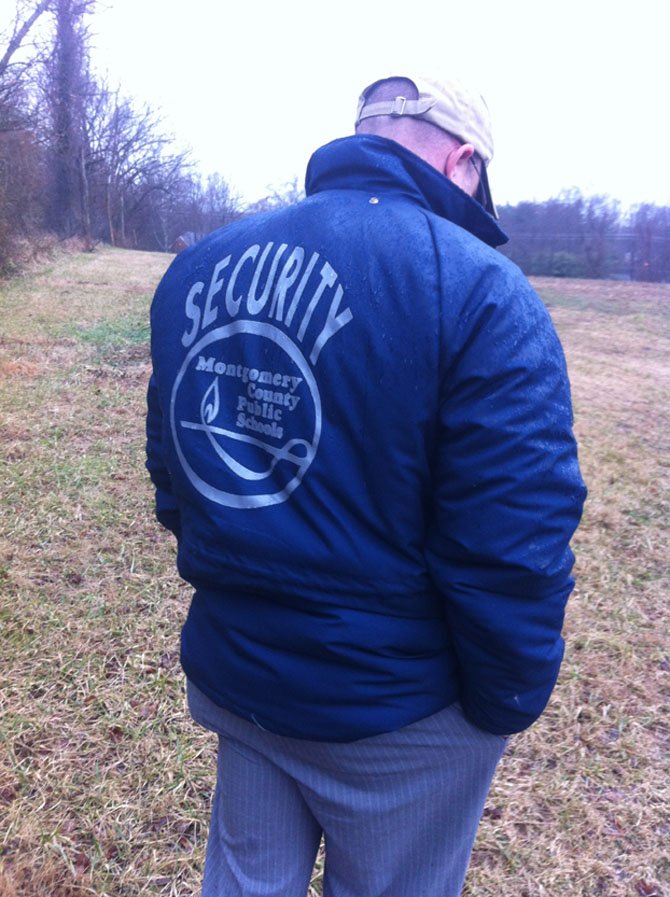 Update from Feb. 19 Board of Education Meeting
In a special Board of Education meeting Tuesday night, Feb. 19, after the Almanac and this story went to press, Board of Education President Christopher S. Barclay announced that County Executive Isiah Leggett told the school board that the county surrendered its lease to the Brickyard Road School property.
"The county has decided not to proceed with development of Brickyard Road," Barclay said Leggett told the board.
Barclay called for a board resolution to accept the county's surrender of the lease.
"So we're putting the horse back in the barn," said Board of Education member Patricia O'Neill. "There is no lease with anyone."
"To be clear, it becomes a future school site," she said, "and at some point the board will have to decide that matter. Correct?"
The board voted unanimously to approve the county's surrender of the lease.
Potomac — While coffee brewed in the Maravell's kitchen, school board security officers prepared to lock the gates to Nick Maravell's Organic Farm and his daughter's Brickyard Education Farm on Brickyard Road.
"As you may be aware, Mr. Maravell has no right to be on the property. On. Aug. 17 he was sent a letter saying he could access the property only to harvest existing crops. On Sept. 21, he was told that he and all of his equipment needed to be off the property as of the end of December," said Dana Tofig, public information officer for Montgomery County Public Schools.
At the Almanac's press time, officials were prepared to take Maravell's gate down at the Brickyard Road entrance to the farm, said Carissa Lovelace, an advocate of saving the organic farm. But Maravell told them, "It's very hard to put that gate back up." He suggested they gain access to the farm through his backyard.
"This was a complete surprise because the judge has not issued his ruling."

— Carissa Lovelace, advocate for saving the organic farm
"Security and maintenance personnel arrived today [Feb. 19] to inspect the property, which belongs to the Board of Education and is not leased to anyone at this point. The staff was not able to access the property because locks had been placed on the gates by Mr. Maravell. Our staff removed the locks, inspected the property and put on our own locks," Tofig said.
While Nick Maravell took his tractor and other equipment off the property, his daughter Sophia Maravell covered some of the crops.
"I'm just doing some winter cover up in case I can't get in here for a while," said Sophia Maravell, while farming in a cold February rain. "We still have carrots, kale, garlic, fennel, bok choy and parsnips that are still being harvested."
Montgomery County Circuit Court Judge Robert A. Greenberg is expected to rule this week on the legality of the school board's lease of the 20-acre property to the county for sublease to Montgomery Soccer Inc. for soccer fields.
"This was a complete surprise because the judge has not issued his ruling," Lovelace said, inside the Maravell's house.
"Other school systems in the county would kill for this property," she said. "For some reason, Montgomery County Public Schools is killing it."
A hawk rested on the branches of the tree at the entrance to the farm, while school officials went back for additional materials to lock the gates.
Inside, Maravell talked with his attorney.
"I don't really have any reaction to it," said Nick Maravell. "I'm just farming."
NEARLY TWO YEARS ago in March 2011, Nick Maravell, neighbors and civic organizations in Potomac learned that County Executive Leggett had already decided to take control of the 20-acre school property on Brickyard Road to turn it over to a private organization for development into soccer fields, which county officials say were desperately needed. The Board of Education voted with a few days notice to lease the property to the county for that purpose.
Nick Maravell had leased the 20-acre site from the Montgomery County School Board for more than 30 years, running an organic farm, which produces heirloom GMO-free corn, and soybean seed. More recently, his daughter, Sophia Maravell has run the Brickyard Educational Farm on the site as well, bringing in local school children to learn about farming.
Montgomery County Council held a town meeting in November at the Potomac Community Center, and advocated that the County Executive and Board of Education reconsider.
"The way this matter has unfolded has been ugly and costly to everyone involved," five councilmembers wrote in a letter to County Executive Isiah Leggett and Board of Education President Shirley Brandman. "We do not think this result is necessary or inevitable."
George Leventhal (D-at large) wrote a letter of his own. "This turmoil has not only tainted our constituents' opinion of representative government, but it has also completely shut down communication," he said.
Councilmembers suggested that the current stay in the Montgomery County Circuit Court offered a "time out" in order "to consider fresh approaches and a transparent process to meeting each of the legitimate needs of our community that has been raised by this divisive debate."
But officials in the County Executive's office weren't persuaded.
"There is no change in the county's position that public land should be used for public purposes, as called for in the Potomac Master Plan unanimously approved by the County Council. This lawsuit is mainly just a rehash of previous suits and contains assertions not supported by fact," said Patrick Lacefield, spokesman for the county, in November 2012.
Most of Montgomery County's delegation to the Maryland General Assembly signed letters dated Feb. 8, 2013 to Montgomery County Public School superintendent and Board of Educational asking for a public process that would include consideration of the Brickyard Educational Farm.
Updated: This story has been updated to add information from a special Board of Education meeting regarding the site on Brickyard Road. The meeting was held Tuesday, Feb. 19 at 6:30 p.m., following the Almanac's deadline.