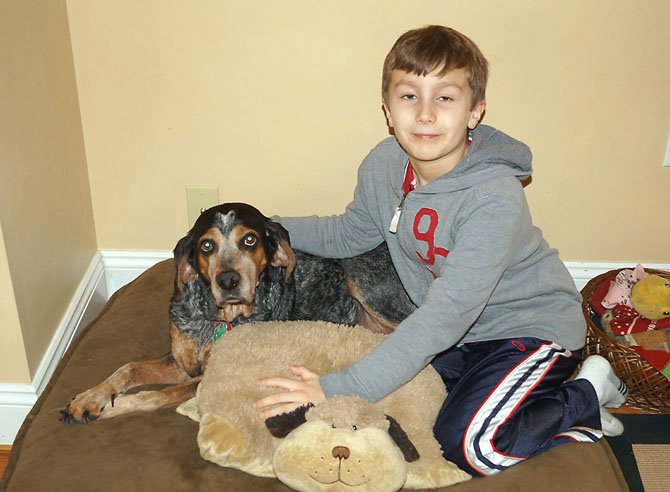 When Guiding Eyes for the Blind dropped off Saki at Bridget Kennerley's house, they made sure to tell her what to expect from the young golden retriever on that first night. What they couldn't tell her, however, was how different her life would be every night after.
"It was interesting at first, especially before she was trained," said Bridget. "I would have to hold her up and sprint downstairs before she had an accident at three in the morning."
After attending foundation training classes every week for the first few months, Bridget and Saki now attend the next level of classes every other week. This past December Saki was one of the youngest dogs in the region to become a jacketed guide dog, meaning Bridget can now take Saki with her into public buildings, restaurants, church and even out on the family boat.
"We want to expose her to every possible situation a blind person could take her into," said Anne Kennerley, Bridget's mother.
The Kennerleys' ultimate goal is to have Saki get through the formal training and pass the test this August to become an official guide dog for people with visual disabilities. Anne said the reason they chose to work with Guiding Eyes for the Blind was that the non-profit organization gives the guide dogs up for free to those in need.
"It's amazing how many people are involved in this," Bridget said. "We met a referee at an ice hockey game, a couple at the ski lodge, a lady on the metro … it's an experience you can bond over with people from all over the area."
RUDY FERNANDEZ doesn't consider himself much of a pet lover.
"Except for Kristy. She's a good dog," he said, smiling fondly in the bluetick coonhound's direction. After giving in to his children's requests for a dog, he decided to adopt one from a rescue shelter. The moment he saw Kristy, he decided she was the right one.
"She's very easy-going and doesn't require a lot of attention. She loves to stretch out in the sun and probably sleeps about 18 hours of the day," he said, laughing.
Rudy said she'll often disappear upstairs with his son Jonathan who plays with her in his room, inventing games and adventures.
Jonathan piped in, "I like spending time with her. But she's got a sad look in her eyes."
Kristy was found in West Virginia, where she had a litter of puppies, and was rescued from owners who had mistreated her. Rudy said she still shakes a lot and is easily startled and scared by little things.
Her past hasn't changed her hound nature though and even now if the Fernandezs leave the door open she takes off, sniffing out a path until the family organizes a neighborhood search to find her. No matter how lost she gets, however, they always manage to bring her safely back home.
WHEN HER DAUGHTER LEFT FOR COLLEGE, Gail Glover began sending her a picture of their cat Stevie every day. Inspired, her son Owen Joyce began tweeting a daily picture of the cat under the trend '#dailycatpic.'
"She's so cute you can put a picture on twitter and get a minimum of three favorites," Joyce said, half-joking and half-serious.
Internet celebrity aside, Stevie is a constant source of entertainment for the family, who adopted her from a friend in May 2011. All she carried with her was her name, the result of a case of mistaken gender, just as her mother's—Dave—and grandmother's—Johnny—had been. Although she was just a kitten then, she learned quickly.
"At first she didn't know how to go to the bathroom in the litterbox, but just like the expression 'copy-cat,' you only have to show her what to do and she copies it," Glover said.
Joyce said he finds Stevie's nature entertaining, both for her and himself. If they shine a laser pointer at a wall, she breaks into a gallop as if she was a horse, chasing after the light all around the house and even into walls.
"She's a funny little thing and makes us all laugh," Glover said. "She just does goofy stuff all the time."