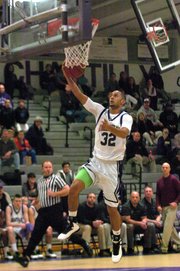 Chantilly — The Chantilly boys' basketball team suffered its first defeat of the season on Dec. 28 --- a 68-63 semifinal loss to Mountain View which kept the Chargers out of the championship game of their own tournament.
The disappointment stemming from such a situation could have affected Chantilly the following night when the Chargers faced South County in the third-place game. Instead, veteran head coach Jim Smith would reference his team's effort when talking about its potential to be something special.
Then again, having a standout scorer, an enforcer in the paint and several enthusiastic athletes doesn't hurt, either.
The Chargers improved to 10-1 and secured third place with a 69-56 victory against South County at the Pohanka Chantilly Basketball Classic on Dec. 29 at Chantilly High School. After trailing by six points in the opening the quarter, the Chargers outscored the Stallions 50-24 during the next 16 minutes, 30 seconds to take control.
Chantilly built a 36-29 halftime lead before outscoring South County 26-13 in the third quarter.
"I like the energy that this team plays with," said Smith, who has coached at Chantilly for more than two decades. "When you have that, you usually have a chance to be good. We have a lot of guys that enjoy defending. Tonight, we're playing in a third-place game, which you could be a little down about. There are not a lot of people in the gym, and, yeah, we got off to a slow start, but in the second quarter … guys were flying around the floor."
One night after scoring a career-high 30 points against Mountain View, Chantilly senior Brian Sydnor dropped 31 on South County. The 6-foot-4 forward earned all-tournament honors by totaling 78 points during the three-day event, the seventh-best individual output in tournament history.
"I like the energy that this team plays with. When you have that, you usually have a chance to be good."

--- Chantilly boys' basketball coach Jim Smith
Against South County, Sydnor made 14 of 24 field-goal attempts, knocked down one 3-pointer and grabbed 11 rebounds.
"He's just doing a great job scoring the ball," Smith said. "He's playing with a lot of confidence, he's scoring a lot of different ways --- he gets some in transition, he's hitting shots, he gets on the glass."
Sydnor credited the younger Chargers' eagerness to improve as a reason for the team's success.
"We have young guys that want to learn," Sydnor said. "They're not just young guys who are just on the team because there are open positions on the team. They're here, they work hard [and] they want to learn. When you have young guys who want to learn [mixed] with a couple older upperclassmen, it creates a lot of good chemistry."
Chantilly senior Trey Coates finished with 10 points and 10 rebounds. The 6-foot-4, 215-pound forward plays with an aggressive mentality in the paint.
"I just try to be stronger than them, just fight harder," he said. "Just play like I want it more than they do."
Coates scored 10 points and grabbed seven rebounds against Mountain View and finished with 11 points and nine boards during the Chargers' 68-62 victory against Patriot on Dec. 27.
"Trey's a big, strong kid," Smith said. "He's having a great year. Pretty much every game he's pretty close to a double-double --- he gets 10 and 8 or better each game, so he's giving us nice play inside."
Junior guard Deandre Harris scored 10 points and grabbed nine rebounds against South County. He scored 23 points against Patriot, shooting 4-for-9 from 3-point range. Senior forward Sean Huelskamp made his first start of the season against South County, finishing with four points and eight rebounds.
Chantilly will open Concorde District play at home against Westfield at 7:30 p.m. on Friday, Jan. 4.